The NBA Draft Lottery will take a place on May 17 in Chicago and leading up to the event, we are taking a look at some intriguing permutations of the league's draft order.
---
Mock Lottery Draft Order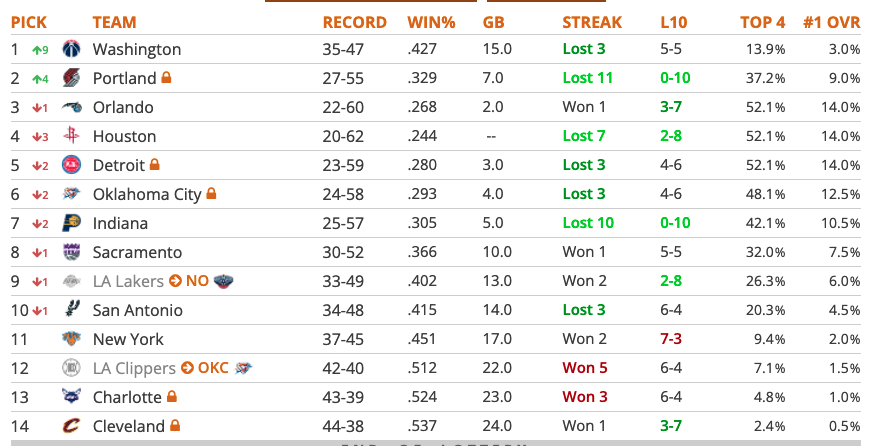 ---
Just like our first mock draft, we utilized Tankathon's lottery simulator to create the order. In this lottery simulation, the Wizards rose to No. 1 with the Blazers rising to No. 2. The Magic and Rockets round out the top-4.
Our mock draft looks at where prospects might go based on the latest draft buzz and takes into account a variety of factors, including teams' immediate wants and long-term needs.
Note: "Upside Comparisons" are projections for a player if everything goes right in his development. It may not be the likeliest scenario but we want to explore what the upper bound of possibilities might be.
---
Key Dates: 2022 NBA Draft
May 17 – NBA Lottery
June 13 – Deadline for Early Entry Withdraw
June 23 – Draft Day
---
1. Washington Wizards
Age: 19 ~ Height: 6-10
Upside comparison: Chris Bosh with enhanced 3-and-D abilities.
Smith, who is the son of former Kings draft pick and LSU stud Jabari Smith Sr., has the ability to be a franchise big man almost immediately, similar to Evan Mobley in Cleveland. Critics may point to some of his lackluster performances at Auburn but when Smith is engaged, he's a game-changer.
If the Wizards win the lottery (3.0% chance at landing No. 1), Smith would give the organization a pillar alongside Bradley Beal (still widely expected to re-sign) and Kristaps Porzingis. There's an argument to be made that Washington would be the best fit among the lottery teams for Smith's ranging offensive game and his ability to be a defensive force would be welcomed at the Capital One Arena.
---
2. Portland Trail Blazers
Holmgren's critics point to the lack of weight on his frame as a reason to dismiss his potential in the NBA. There was someone else who had those same concerns coming into the league during the 2007 draft and he dropped to No. 2: Kevin Durant.
Portland would be wise to avoid a mistake of the past if NBA lottery-reality matches this simulation and the Blazers rise to No. 2 (9.2% chance). Pairing Holmgren with Damian Lillard would be a major win for the franchise, one that puts them back in the playoff competition immediately while raising their long-term championship ceiling.
---
3. Orlando Magic
Age: 19 ~ Height: 6-10
Upside Comparison: Early Sacramento Chris Webber
Paulo Banchero's fit with the Magic is interesting, given they just drafted Franz Wagner. In this scenario, it would be wise for the Magic to think long and hard about attempting to trade up and select either Smith or Holmgren. If "stuck" at No. 3, they shouldn't overthink it.
Banchero has a shot to be the best player in the draft with his wide set of offensive skills. Learning to play NBA defense will be key for the power forward; many excellent bucket getters in the post have failed to make major strides on that end of the floor. It's more likely that Banchero becomes a player resembling Chris Webber or a better version of Julius Randle than a Jahlil Okafor prototype. Still, there's a wide range of outcomes with the Duke Freshman.
---
4. Houston Rockets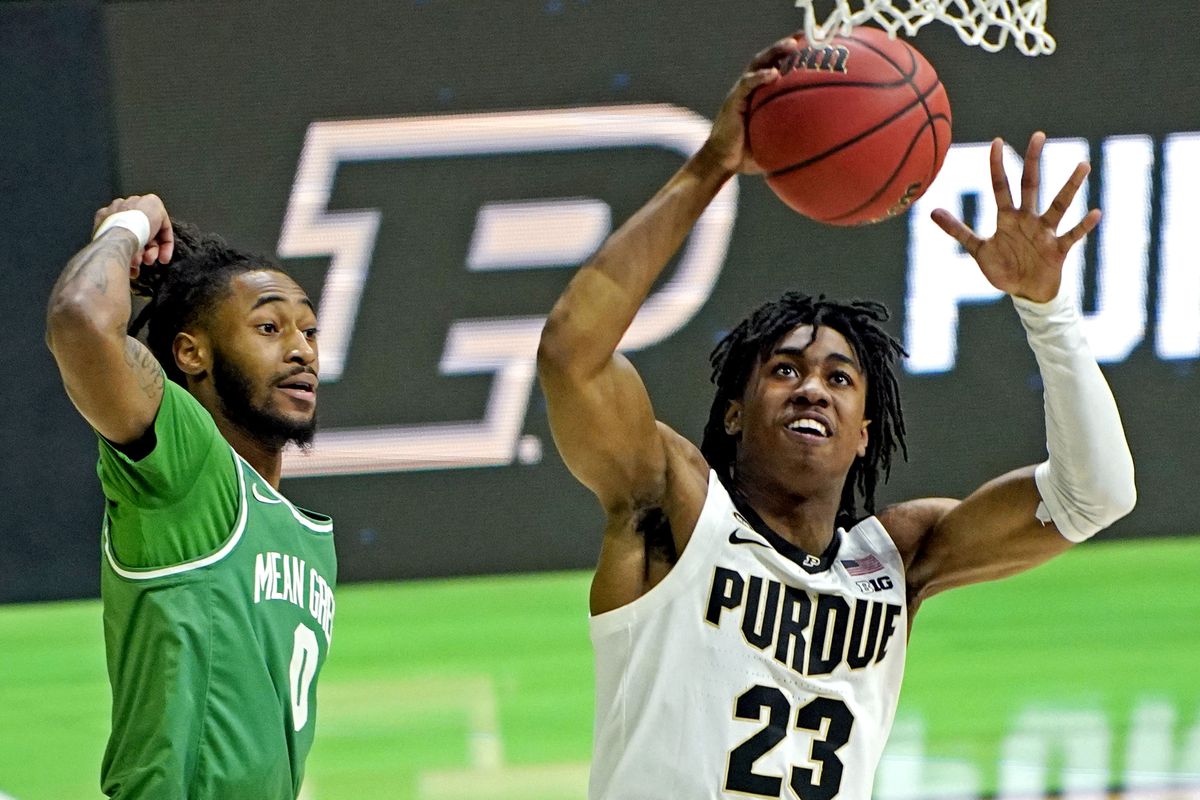 Ivey's stock is volatile and there was a time when it was easy to see him fall. Yet, with some front offices seeing him as a future franchise star, dropping outside of the top-4 seems unlikely.
ESPN's Jonathan Givony suggests that Houston should take Ivey or Keegan Murray, who went No. 4 in our first mock draft, if the Rockets' pick falls outside the top-3 (60% chance).
Each player would give the Rockets a different look with the Ivey-Jalen Green backcourt having the potential to be the next up-and-coming tandem and Murray providing Houston a pro-ready prospect to add to their core. Ultimately, should this scenario occur for Houston, it's hard to envision the franchise passing on the Purdue star.
---
5. Detroit Pistons
Shaedon Sharpe – SG – Kentucky
Age 19 ~ Height: 6-6
Upside Comparison: OKC Paul George
Sharpe is a wild card, having been the top recruit in the nation…only to never suit up for Kentucky. The latest draft buzz on suggests that his missed season might not hinder him too much. Many around the league are projecting him to be selected in the top half of the lottery due to his massive potential star potential (It's worth noting that John Calipari is still trying to get Sharpe to come back to Kentucky).
Detroit may opt to go with a less risky, more pro-ready prospect such as Keegan Murray after landing Cade Cunningham at No. 1 in last season's draft. Yet, Sharpe'projects to be a dynamic NBA triple-threat option who can thrive regardless of how high his usage rate rises, and pairing him with Cunningham gives Detroit a dangerous duo.
---
6. Oklahoma City Thunder
Scouts are split on Griffin and his injury history could send him further down the draft. Discipline on defense and fluidity as a play-maker at the next level are other concerns with the 220-lb wing, though there is no doubt All-Star potential here with long-range shooting and athleticism anchoring Griffin's strengths.
Griffin would be a nice addition for the Thunder where he would have a chance to grow his game while providing Josh Giddey & Co. with a solid 3-and-D option immediately upon arrival.
Fun fact: Thunder GM Sam Presti once traded for Griffin's father (Adrian Griffin: 9-year NBA vet and currently an assistant coach on the Raptors) as part of the three-team, 11-player deal at the 2008 trade deadline which was highlighted by Cleveland landing Ben Wallace, Wally Szczerbiak, and Delonte West. It was the last trade in the SuperSonics' phase of the franchise.
---
7. Indiana Pacers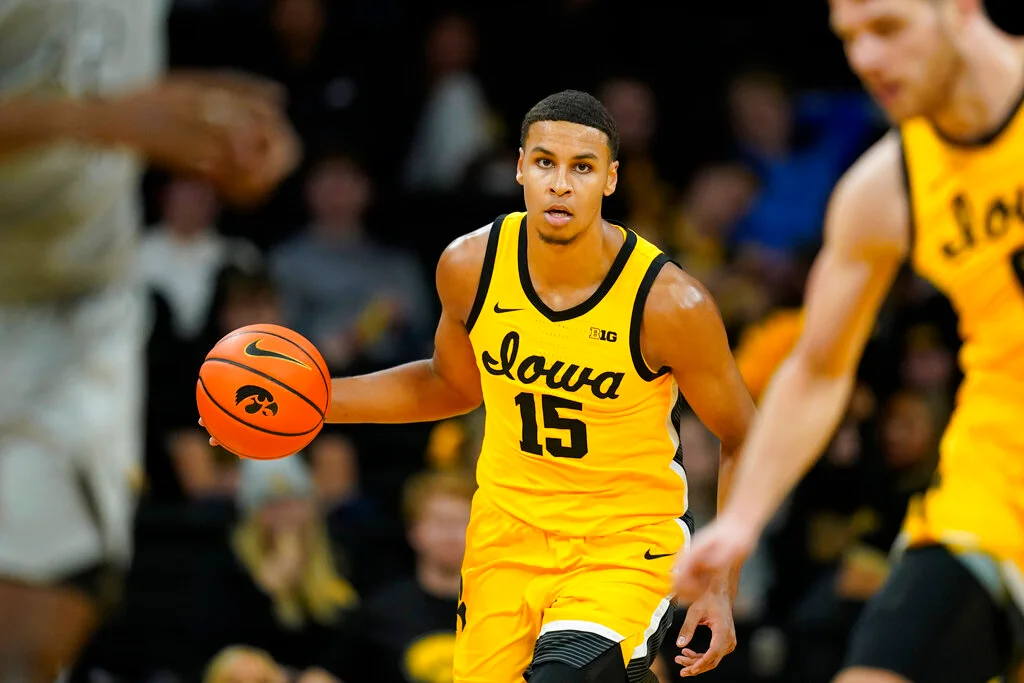 Age: 21 ~ Height 6-9
Upside Comparison: Current Version of Pascal Siakam
The Iowa product is a super-efficient prospect who should immediately make an impact for whoever lands him in the NBA draft.
The Pacers would be thrilled with Murray, who has some serious buzz about him being selected in the top-4. For Indiana, he'd provide a pro-ready building block alongside Tyrese Haliburton.
---
8. Sacramento Kings
Mathurin's combination of perimeter shooting, defensive prowess, and play-making ability makes him an intriguing addition to this Kings team. Jalen Duran could be an option here, though, given Sacramento's perennial need at the wing spot and how well Mathurin projects to fit alongside De'Aaron Fox and Domantas Sabonis, it's hard to see the Arizona product fall past the Kings.
---
9. New Orleans Pelicans
Dyson Daniels – SG – G-League Ignite (Australia)
The Pelicans have this selection from the Lakers as part of the 2019 Anthony Davis trade and something tells me that they could look to package this selection to add another pro-ready piece to its intriguing core.
Could that mean attempting to make a play to reunite Damian Lillard with CJ McCollum in New Orleans? There were rumors the Pelicans were willing to surrender Brandon Ingram for Lillard, though that was prior to the trade deadline move for McCollum and the team's playoff appearance. Maybe New Orleans should just aggressively pursue Lillard with Zion Williamson as the centerpiece.
If I were in David Griffin's chair, I would sniff out the market this summer to see what kind of Williamson offers are out there given the former No. 1 pick's looming risk-laden contract extension and long-standing questionable fit alongside Ingram. Does a Hawks package of John Collins plus future assets make sense for the Pelicans to optimize the team around Ingram? Perhaps Orlando would be willing to send their first-round pick (Paulo Banchero via the No. 3 pick in this mock) and Jalen Suggs for Williamson and New Orleans' pick? What would the framework of a Williamson-Shai Gilgeous-Alexander swap look like?
Back to reality—or at least the simulation of this mock draft: New Orleans adding Dyson gives them a player who would mesh well with whoever is on the Pelicans' roster over the next few seasons. It also gives the franchise a prospect whose ceiling rivals nearly any player's in the 2022 draft.
---
10. San Antonio Spurs 
Age: 20 ~ Height: 6'5″
Upside Comparison: Early Raptors DeMar DeRozan.
Concerns about Davis' shooting range and his ability to be an effective distributor at the next level plague the 6-foot-5 guard. Some see him as a potential elite Sixth Man of the Year candidate, however, while others see a potential star. Not many saw him as a lottery pick heading into the 2021-22 season.
The Spurs have three first-round picks in this draft in addition to salary-cap flexibility this summer so there are numerous possibilities heading into a critical offseason for San Antonio. Should the front office stay put at this spot and Davis slides down to them, it would be a win for the franchise.
---
11. New York Knicks
Evaluators who think fondly of Duren's future see a potential Defensive Player of the Year candidate, though it could be a while before he reaches his potential as a defensive anchor.
With Mitchell Robinson's pending departure and perhaps some potential for a Julius Randle trade, the Knicks would be thrilled to land a prospect like Duren. He'd have to earn minutes in Tom Thibodeau's rotation, though the future of the frontcourt would look bright in NYC.
---
12. Oklahoma City Thunder
Branham would have been a star in the 1980's, though there are questions as to whether his game will translate to today's NBA. Armed with an elite mid-range game as well as an ability to limit turnovers, Branham has clear strengths while other parts of his game remain less certain.
Creating opportunities for his teammates is an area where the shooting guard needs improvement and some scouts are skeptical about his 3-point shooting (41.6% during his freshman season on 89 attempts), though there's optimism he can grow the catch-and-shoot portion of his game, similar to how Collin Sexton progressed during his rookie contract in Cleveland.
Branham would provide OKC with someone who has the ability to elevate the rotation right away while still having the potential to grow.
---
13. Charlotte Hornets 
The forward position might not appear like Charlotte's biggest need, though Kelly Oubre (non-guaranteed deal) and PJ Washington (eligible for a rookie-scale extension this summer/entering the last season of his rookie deal) are both trade candidates this offseason. The team is also likely to trade Gordon Hayward and overall, the club should be looking to add better defensive options around LaMelo Ball and Miles Bridges (who is a restricted free agent this summer).
Enter Jeremy Sochan, who has the ability to guard nearly every position on the floor. He has some work to do on the offensive side of the ball, though if he can develop an outside shot, he'll be a perfect long-term running mate for Ball and Bridges.
---
14. Cleveland Cavaliers
Cleveland has a clear need on the wing and most mock drafts will satisfy that here at No. 14. However, it's not the Cavaliers' only weak spot on the roster and unlike in previous seasons, the front office won't have to select from a place of desperate need.
The Cavs just missed the playoffs during the 2021-22 season and they arguably wouldn't have slipped so far in the standings if they had a better-suited replacement for when Jarrett Allen's finger injury kept him sidelined.
Down the stretch, J.B. Bickerstaff's best options to fill Allen's void were to shuffle Mobley over to center (when the Rookie of the Year candidate was healthy), expand Kevin Love's run at the five, or utilize underwhelming direct replacements, such as Ed Davis or Moses Brown. Bickerstaff leaned toward the latter strategy, like many coaches wisely do, because it stabilizes the rotation, allowing the majority of the team to play in their familiar roles. It didn't lead to great results because Cleveland didn't have a great option for that role.
Adding Williams, who has a 7-foot-7 wingspan, would protect the team from the type of dropoff they just experienced should Allen miss chunks of time in the future. It would also allow the Cavaliers to build on their strength rather than pick from the bottom of the lottery to immediately fill a weakness.
It wouldn't be surprising to see the Cavs move this pick, packaging it with one of their trade candidates—Lauri Markkanen, Kevin Love, or Collin Sexton (potential sign-and-trade)— to add another pillar to the Darius Garland–Evan Mobley–Jarrett Allen core. Finding a veteran small forward on the trade market would make more sense than hoping that the prospect they select at No. 14 can elevate the wing rotation.
If Cleveland stays put in the draft, grabbing a top-notch rim protector like Williams is a prudent strategy that might be unpopular on draft night, though it'll look like yet another shrewd Koby Altman draft decision down the road.
---
𝗪𝗮𝘁𝗰𝗵: All your favorite shows on @fuboTV 👀

7-day 𝗳𝗿𝗲𝗲 𝘁𝗿𝗶𝗮𝗹 ➡️ https://t.co/mHeRUEb1iQ pic.twitter.com/mmslGWwIf6

— FortyEightMinutes⏳ (@FortyEightMins) May 3, 2022
---
Non-Lottery: Picks 15-30
15. Charlotte Hornets: Ochai Agbaji – SG – Kansas
We're getting into the territory of the draft where teams sometimes reach for high-risk, high-reward prospects. This is not the case with the Hornets here. Agbaji is a polished prospect in many ways, though he may ultimately top out as an excellent starting 3-and-D wing, assuming he's able to find consistency with his shot at the next level.
16. Atlanta Hawks: Ousmane Dieng – F – New Zealand
Scouts rave about Dieng's potential, though Deni Avdija may serve as a cautionary tale for this prototype of baller. What Washington is learning with the former No. 9 overall pick is that if your play-making forward doesn't warrant a high-usage role, the road for him becoming a contributor can be a lengthy one. Avdija has plenty of time to turn it around in Washington and he's improving in his defense and off-ball responsibilities. Dieng will need some time to develop regardless of where he lands but it's easy to envision the Hawks selecting the 19-year-old and providing him with a low-pressure environment to improve (or to be used as a trade chip at some point in the future).
17. Houston Rockets: Tari Eason – PF – LSU
Eason, who drops from No. 10 in our previous mock draft,  is a lanky, athletic big man whom metrics paint fondly even in a high-usage role (31.5% rate) at LSU. He's a solid defender with room to grow and could be a nice fit alongside Jalen Green and Houston's young talent. The Rockets could do worse with what is the first of three unprotected Nets picks being shipped to the franchise over the next five NBA drafts (via the James Harden deal).
18. Chicago Bulls: Nikola Jovic – F- Serbia
While the Bulls made major strides this season after a busy offseason, their bittersweet moment playoff appearance highlighted the team's lack of true depth and the gap between Chicago and the real heavy hitters in the conference. Nikola Jovic could potentially help in both areas. While Bulls' VP of basketball operations Arturas Karnisovas' massive international scouting success, including adding Nikola Jokic as a second-round pick in Denver, won't necessarily dictate that the club targets the international prospect in this spot, there's no doubt that if AK is as high on Jovic as some scouts are (a prospect who can contribute now without the ball in his hands and potentially flirt with All-Star value down the road), he won't be afraid to take the 19-year-old.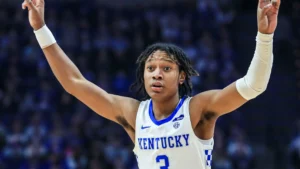 19. Minnesota Timberwolves: TyTy Washington – PG – Kentucky
There are rumors that Minnesota could trade D'Angelo Russell this offseason, which would leave them with a void in the backcourt. Washington, whose well-rounded offensive game is only lacking a consistent 3-point shot, could be a long-term replacement for the former No. 2 overall pick.
20. San Antonio Spurs: Walker Kessler – C – Auburn
If the 7-foot-1 center had any real range to pair with his defensive chops, he'd be selected much closer to the top of the draft. Still, recent history has proven that NBA centers can significantly enhance their outside shot during their rookie contract. He has showcased the potential to be an above-average passer, which is something that will be key to him entering Gregg Popovich's rotation.
21. Denver Nuggets: MarJon Beauchamp – SG/SF – G League Ignite
The Nuggets' depth was exposed in the postseason and the franchise could retool around the edges as they welcome Michael Porter and Jamal Murray back from their respective injuries. Beauchamp has the tools to guard multiple positions and could immediately crack the rotation in Denver as a hustle guy with the ability to develop into even more.
22. Memphis Grizzlies: Jean Montero – PG – Overtime Elite
With Memphis having two selections in the latter half of the draft, it wouldn't be surprising to see the franchise make a trade ahead of draft day. If they stay put, Montero would be a nice fit as a long-term backup to Ja Morant and a potential trade chip down for the Grizzlies down the line.
23. Brooklyn Nets: Kennedy Chandler – PG – Tennessee
Another guy who could go higher but Brooklyn would be happy with the 6-foot guard in this spot. Defense could be a concern for Chandler, though he has a nice combination of shooting range and play-making ability. E.J. Liddell would be another fine option for the Nets here.
24. Milwaukee Bucks: Bryce McGowens – SG – Nebraska
The Bucks will be clear title contenders as long as they have Giannis on board but what kind of players will Jrue Holiday (turns 32 in June) and Khris Middleton (turns 31 in August) be in two-to-three years? It's going to be tempting, and perhaps practical, for the franchise to select a prospect who's ready to play now with the No. 24 selection. However, with Milwaukee having traded away several first-rounders, it might be best to try and land a prospect who has a ceiling that could extend Giannis' run when. McGowens, who was projected to be a lottery selection entering the 2021-22 season before struggling, isn't the safest selection but he'd give the Bucks a shot at producing high-caliber starter down the line.
25. San Antonio Spurs: Patrick Baldwin Jr. – F – UW-Milwaukee
There are a lot of question marks with Baldwin, as injuries and ineffectiveness plagued the 19-year-old during his freshman season. It wouldn't be surprising if he's selected as high as No. 16. or as low as the middle of the second round with his predraft process and how teams view his ankle woes among the key factors in his landing spot. The 6-foot-9 forward has shooting range and San Antonio would be a perfect landing spot for him to develop further.
26. Dallas Mavericks: E.J. Liddell – PF – Ohio State
While the ceiling might not be there, Liddell is pro-ready, and his ability to seamlessly switch on defense is extremely appealing to the Mavericks as they look to provide Luka Doncic with a versatile supporting cast. It wouldn't be shocking to see Liddell excel in a team's rotation as a rookie.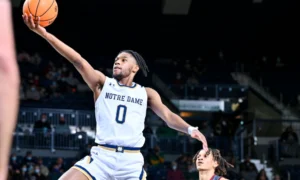 27. Miami Heat: Blake Wesley – SG – Notre Dame
If Wesley had a consistent 3-point shot, we'd be talking about him going in the top half of the draft. The 6-foot-5 guard projects to be great in transition and shaky in the half-court, at least initially. It'll be intriguing to see how Wesley progresses under the tutelage of Erik Spoelstra & Co.
28. Golden State Warriors: Leonard Miller – SF – Canada
In a draft that might not have an overabundance of star power, it wouldn't be surprising to see teams take chances on prospects who could develop into such a role even if it will take a while. Golden State has drafted well over the past decade—even considering the James Wiseman pick—and the franchise is in as good of position as any to take a major swing on a raw prospect like Miller. The 18-year-old is, by many accounts, several years away from reaching his potential ceiling in the league and he's still considering playing with the G League Ignite or attending one of the top NCAA programs (my prediction is he ends up at Kentucky). Another year of seasoning for the 6-foot-11 guard could easily make him a lottery pick in 2023; if Miller stays in the 2022 draft, however, the Warriors could offer him a chance to sharpen his tools in their vaunted G League program in Santa Cruz.
29. Memphis Grizzlies: John Butler Jr. – PF – Florida State 
While Butler is widely thought to be a couple of years away from being NBA-ready, he has the attention of multiple front offices. The 7-foot-1, 190-lb big man showcased a Kristap Porzingis-like combination of long-range shooting, shot-blocking, and fluidity in light action (19.0 minutes per contest) during his freshman season at Florida State. Butler has declared for the NBA Draft as an early entry candidate, meaning he still could return to the University. If he does enter the draft, it wouldn't be surprising to see a franchise without an immediate need for him to contribute to take the chance on his upside.
30: Oklahoma City Thunder: Kendall Brown – SF – Baylor
Scouts are all over the place on Brown, who had an underwhelming end to the season for Baylor. For OKC, taking a chance on the athletic wing makes perfect sense at this spot.
---
Read More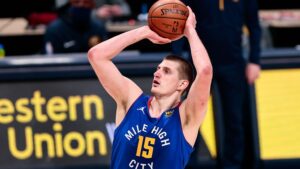 13 NBA Players Have Now Won Back-to-Back MVPs With Nikola Jokic Winning Again
Lakers Draft Buzz: Could Los Angeles Trade Back Into Draft?