Plenty of NBA publications will give you statistical breakdowns, advanced matchup stats, and inside stories ahead of the postseason, but where else are you going to get all that plus a John Mayer-themed playoff preview?
The league's second season comes at a critical point for many NBA franchises and FortyEightMinutes.com has you covered all playoffs long with unique content in addition to your traditional menu of basketball coverage. So hit play on your favorite song below and let's examine the state of each NBA team entering the playoffs from the perspective of John Mayer's repertoire (odds via fuboSportsbook).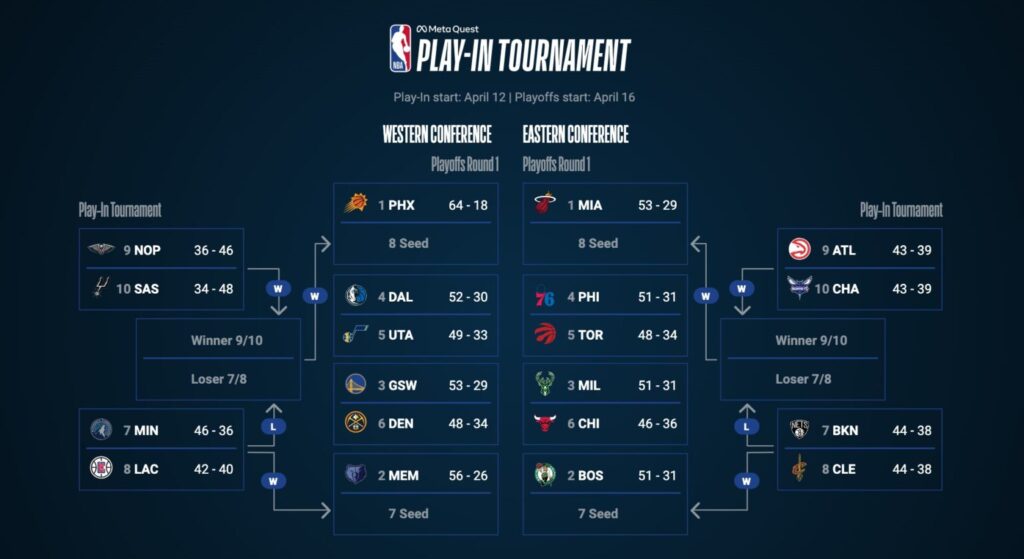 Watch the NBA Playoffs on fuboTV
Get your free trial to fuboTV where you can watch live sports, movies and so much more!
---
Denver Nuggets
Gravity
Series odds vs. Warriors: +200
Season point differential: +2.3
Record vs. Golden State this season: 3-1
Odds to win the Western Conference: +1200 (5th-best)
Odds to win the NBA Finals: +2400 (10th-best)
It's pretty remarkable that the Nuggets are in this position given the major injuries they've suffered. It just seems like Nikola Jokic & Co. are going to come back to earth during their first-round series against the Warriors. Regression, like Gravity, has taken better teams than this.
---
Atlanta Hawks
Charlotte Hornets
New Orleans Pelicans
San Antonio Spurs
Who Says
Hawks odds to win the Finals: +12000
Hornets odds to win the Finals: +25000
Pelicans odds to win the Finals: +25000
Spurs odds to win the Finals: +50000
Who says you can't call a play-in appearance a playoff appearance?
You may not remember the lower seed participants of the play-in games looking any better than they will should they pull off an upset and claim an 8th seed. Then again, you might not remember them at all.
---
Miami Heat
I Don't Trust Myself
Series odds: TBD
Season Point Differential: +4.4
Odds to win the Eastern Conference: +430 (4th-best)
Odds to win the NBA Finals: +950 (6th-best).
If you are just tuning into the Miami Heat, you've met the team at an interesting time. Erik Spoelstra's club has systematically climbed to the top of the conference with a roster that fits well together but seems ever-unfinished.
Much like the city of Miami, surface-level perceptions will only present a partially accurate picture. As you go inland, you see a beautiful, yet complex structure balancing its rich history with an invasion of outsiders potentially compromising the culture.
The Heat and their hard-working, process-oriented mentality are in the early stages of dealing with a new star class of NBA players, those just as focused on building personal brands as they are with improving their basketball game. It's not too dissimilar to how Miami locals are dealing with an influx of New Yorkers and how they threaten the existing ecosystem.
In both cases, business is booming, yet there are major questions looming about the long-term: How concerned should we be about Jimmy Butler's back end of his contract? Perhaps some action should be taken to control rent prices with a potential recession on the horizon? Should Miami simply live in the moment with blinders on and enjoy the success it's having now? After all, life is beautiful from the luxurious Eastern Conference high rise.
There are glaring signs that everything isn't as it seems on the surface. The Heat have gone 7-8 this year against the teams occupying the 2-5 seeds in the conference. They also lost their only game against the Nets when Kevin Durant and Kyrie Irving both played.
Perhaps the Heat can string together four-straight playoff series and take home their first title since LeBron James left. Perhaps this group proves to be a long-term core. If this was another franchise, it would be an extremely difficult scenario to trust but we know what Miami is right? Or at least we think we do.
The Heat have dealt with injuries and absences, which only adds to Spoelstra's coach of the year candidacy. Yet, in the 119 minutes that Butler, Tyler Herro, Bam Adebayo, and Kyle Lowry have played together, the quartet has a net rating of -3.4. More time together could certainly yield better results, though it could also expose the dichotomy of this team and usher in an offseason of change.
---
Chicago Bulls
Bittersweet
Series odds vs. Bucks: +650
Season point differential: -0.4
Record vs. Milwaukee this season: 0-4
Odds to win the Eastern Conference: +4000 (7th-best)
Odds to win the NBA Finals: +8500 (15th-best)
No, we are not picking this song for the Bulls strictly because it's made by Chicago's own, but it helps. The Bulls are back in the playoffs for the first time in five years, though the first-round matchup with the defending champs puts a damper on the Bulls' party.
---
Philadelphia 76ers
Slow Dancing in a Burning Room
Series odds vs. Raptors: -180
Season point differential: +2.6
Record vs. Toronto this season: 1-3
Odds to win the Eastern Conference: +540 (5th-best)
Odds to win the NBA Finals: +1300 (7th-best)
Like any toxic relationship, the highs are so high and the lows can be daunting. For Sixers fans, there's hope, excitement, passion. There's worry about the lack of production from the bench and the questionable x-and-o's and lineup decisions. The emotional roller coaster of being a Philadelphia sports fan isn't for everyone. I mean, what are you going to do? Switch to rooting for the Nuggets and live a golf-clap life?
Sixers fans are in championship or bust mode. After years of Processing, front office drama, and Ben Simmonsy things, they are well trained for the chaos that seems to always accompany their ongoing relationship with this franchise. They are slow dancing in a burning room but who knows, maybe someone else will come put out the fire.
---
Memphis Grizzlies
Daughters
Series odds vs. Timberwolves: -400
Season point differential: +5.7
Record vs. Minnesota: 2-2
Odds to win the Western Conference: +550 (3th-best)
Odds to win the NBA Finals: +1300 (7th-best)
I enjoy watching women's basketball whenever I can. It's a somewhat purer game than the NBA. There's less shallow flashiness, less foul-fishing, less theater; It's uncontaminated basketball.
The Grizzlies might be the closest NBA team to that level of pureness, having organically grown into a contender behind Ja Morant's authentic game and a cast of players that seamlessly fit around him. This team has a child-like joy to it; an innocence that won't last forever. How Memphis performs during its first playoff run with real expectations will set the stage for the future of the franchise just as a father's relationship with his daughter can set the stage for who she rosters in the future.
---
Utah Jazz
Stop This Train
Series odds vs. Mavericks: -125
Season point differential: +6.0
Record vs. Dallas this season: 2-2
Odds to win the Western Conference: +1000 (tied 5th-best)
Odds to win the NBA Finals: +2100 (9th-best)
It seems like just yesterday that the Jazz was a sleeper team, capable of sneaking up anyone in the playoffs. Now, it appears that the core's run could be coming to an end. Change can be scary and Utah will likely undergo some major roster moves this offseason unless they are able to make some serious noise this spring.
---
Minnesota Timberwolves
New Light
Series odds vs. Grizzlies: +285
Season point differential: +2.7
Record vs. Memphis: 2-2
Odds to win the Eastern Conference: +2000 (7th-best)
Odds to win the NBA Finals: +5000 (13th-best)
If you give the Timberwolves just one night, you might see them in a new light. And while this team celebrated like they won the championship after winning their home play-in game, the victory could be the start of a nice playoff run with this core. They could also quickly just revert to what they probably are: an average team.
---
Los Angeles Clippers
Dreaming with a Broken Heart
Season point differential: 0.0
Odds to win the Western Conference: +2250 (8th-best)
Odds to win the NBA Finals: +3750 (12th-best)
The beginning was so exciting. When the franchise added two superstars to the 2019 playoff team, many pegged this team as a sure thing to win a title. Now, with a soon-to-be 31-year-old Kawhi Leonard recovering from another injury and the front office saddled with a lack of draft assets, there's no doubt that the championship window is rapidly closing. It's even fair to wonder whether it even exists at all.
However, Clippers fans, this is not the end; It'll get better. Leonard will return at some point and the club is likely to add more reinforcements ahead of the 2022-23 season (such as trading for a new point guard). Will it result in an NBA championship? …I don't want to lead you on.
---
Brooklyn Nets
Belief
Series odds vs. Celtics: +110
Season point differential: +0.8
Record vs. Boston: 1-3
Odds to win the Eastern Conference: +290 (2nd-best)
Odds to win the NBA Finals: +610 (3rd-best)
Belief is a beautiful armor
But makes for the heaviest sword
Like punching underwater
You never can hit who you're trying for

Some need the exhibition
And some have to know they tried
It's the chemical weapon
For the war that's raging on inside
Some believe
Kyrie Irving
is a hero; others believe he's out of line. Some believe the Nets' succeeding in the playoffs would completely undermine the NBA's regular season; others might believe that line was crossed long ago. Everyone believes in Brooklyn's talent, at least on paper. Can they hold it together for a two-month run?
Oddsmakers
certainly believe in their chances, giving the Nets the 3rd-best odds to win the NBA Finals.
---
Cleveland Cavaliers
Love on the Weekend
Season point differential: +2.1
Odds to win the Eastern Conference: +4500 (8th-best)
Odds to win the NBA Finals: +11000 (16th-best)
It feels like the franchise is playing with house money heading into the play-in tournament. They were not favored to beat Brooklyn in the 7-8 matchup and while it wouldn't be surprising to see Cleveland beat Charlotte or Atlanta on Friday, no one would pick them in a seven-game series against the Heat.
Yet, it doesn't seem like this really matters in the eyes of many Cavs fans. They went searching for franchise pillars over the past 14 months and found several matches, the most inspiring of which is 2021 No. 3 overall pick Evan Mobley. Cleveland is still in the honeymoon phase with their young core so much so that there are rumors that the front office wouldn't make a trade for LBJ if the 4-time MVP desired to return to The Land. That could ultimately end up being foolish but for now, this club is young, naive, and simply enjoying the time they have left together this season.
---
Boston Celtics
Outta My Head
Series odds vs. Nets: -140
Season point differential: +7.3
Record vs. Brooklyn this season: 3-1
Odds to win the Eastern Conference: +410 (3rd-best)
Odds to win the NBA Finals: +925 (5th-best)
It's kind of catchy. Both this song as well as the Celtics as a title contender. Yet, just like how other songs on Khalid's Free Spirit album overshadowed this track, other clubs in the Eastern Conference likely deserve more recognition as a contender for the trophy this year (especially if Robert Williams doesn't make a swift return to the court).
---
Toronto Raptors
Half of My Heart
Series Odds vs. 76ers: +150
Season points differential: +2.3
Record vs. Philadelphia: 3-1
Odds to win the Eastern Conference: +2400 (6th-best)
Odds to win the NBA Finals: +5500 (14th-best)
The Raptors haven't had home playoff basketball in Toronto since the 2019 NBA Finals and surely, coach Nick Nurse would like to deliver another surprising run to the Canadian faithful.
It's very possible this could be the last run for several key contributors from that championship team. Nurse continues to receive interest from rival teams. Trade rumors surrounding Pascal Siakam's name have been brewing for quite some time. Both OG Anunoby and Fred VanVleet were floated as available in trade talks for Ben Simmons at various points over the past year and while it's unclear how genuine those reports were, what we do know is that president of basketball operations Masai Ujiri is not afraid to make moves with an eye on the future.
It just seems like it's a matter of time before the franchise completely builds around Scottie Barnes, though the team's late-season surge and a decent playoff run, could further extend the connection with some of the ring-bearing veterans.
The health of Anunoby, who recently returned from a wrist injury, will be among the major keys to Toronto pulling off a first-round upset and making serious noise this postseason. The Raptors are 31-17 with the forward in the lineup, a pace that would have given Toronto the No. 2 seed in the conference. They are just .500 without Anunoby, a mark that would have saw them miss the play-in tournament in the Eastern Conference.
---
Golden State Warriors
Last Train Home
Series odds vs. Nuggets: -250
Season point differential: +3.4
Record vs. Denver this season: 1-3
Odds to win the Western Conference: +400 (2nd-best)
Odds to win the NBA Finals: +810 (4th-best)
The Warriors were positioned to add another star to their core over the past year, though opted to stand pat with Andrew Wiggins, Jordan Poole, and Jonathan Kuminga all blossoming around Steph Curry & Co. The former MVP should return to the lineup in the first-round series and this year's playoffs will be a test to see if the core around him is strong enough to make a run to the NBA Finals, something that will determine whether or not the franchise remains committed to some of Curry's high-salaried co-stars.
---
Dallas Mavericks
Your Body is a Wonderland
Series odds vs. Jazz: +100
Season point differential: +3.3
Record vs. Utah this season: 2-2
Odds to win the Western Conference: +1300 (6th-best)
Odds to win the NBA Finals: +2800 (11th-best)
The NBA playoffs are a chance for rising stars to navigate new waters. It's an adventure that presents the opportunity to form everlasting connections with fans while simultaneously bench-marking their status among their peers.
Luka Doncic has already had some promising playoff moments in his young career, though hasn't yet made it out of the first round. It's not clear if we'll get a healthy Doncic leading the Mavericks vs. the Jazz, as he injured his calf in Dallas' season finale. Yet, if No. 77 can suit up, it's sure to be a show…even if it doesn't last for more than one round.
---
Phoenix Suns
Vultures
Series odds: TBD
Season point differential: +7.4
Odds to win the Western Conference: +110 (best)
Odds to win the NBA Finals: +255 (best)
Blossoming from a bubble-darling a few seasons ago to a fridge Finals team last summer, Phoenix continues to prove the doubter wrong. The team is now the clear frontrunner for the Larry O'Brien trophy and it would be a major upset if this complete team doesn't at least represent the Western Conference in June.
And while the immediate future looks bright for the Suns, once the offseason comes, things could slowly begin to subside. Rival teams will circle this franchise, looking to poach some of the Suns' talent as major long-term questions loom: Should the team move Cameron Johnson before be becomes ultra-expensive? Is there any way to keep Deandre Ayton given the potential market? Should they move on from Chris Paul before the eventual decline?
The NBA world never stops testing you; Phoenix just hopes they can get a ring before they have to make some major decisions about the future of this roster.
---
Milwaukee Bucks
Something Like Olivia
Series odds vs. Bulls: -1100
Season point differential: +3.4
Record vs. Chicago this season: 4-0
Odds to win the Eastern Conference: +220 (best)
Odds to win the NBA Finals: +460 (2nd-best)
Every franchise would love to have a player like Giannis. You could argue that there's not a better franchise player on or off the court in any sport. There's only one franchise that gets to call him their leader and the defending champs are my pick to go back-to-back because of it.
---
Special Betting Offer From Fubo Sportsbook
Offer: One risk-free bet up to $1,000 + one month of free FuboTV.
States: Arizona, Iowa
Promo code: MVPBET (T&C Apply).
---
Special Betting Offer From PointsBet
Offer: Two risk-free bets up to $2,000
States: New York, New Jersey, Illinois, Iowa
Promo code: MVPBET (T&C Apply)