---
FortyEightMinutes is an independent publication that provides readers with a central location for professional basketball news on and off the court, including statistical trends, business news, trade rumors, betting markets, and more.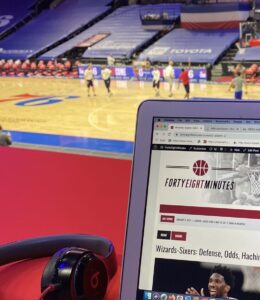 Our publication has been credentialed by numerous NBA teams, including game coverage for the Los Angeles Lakers, Philadelphia 76ers, Washington Wizards, Los Angeles Clippers, Orlando Magic, and Atlanta Hawks.
F8M has also been credentialed to cover other basketball events, including several NBA Drafts and Team USA's Gold Medal run in the 2020 Olympics.
Stay Tuned for continuous coverage from a team of professional writers who deliver quality, insightful content without taking themselves too seriously.
Check out some of our Exclusive Content