---
When the Washington Wizards acquired Spencer Dinwiddie, they didn't just add a new backcourt running mate for Bradley Beal; they added a forward-thinking athlete with a busy schedule off the court.
"I'm not Gilbert, John, or Russ," Dinwiddie told FortyEightMinutes and other reporters during NBA Media Day leading up to the 2021-22 season. "I think I'll possibly be the first point guard in D.C. to lobby Senators about Bitcoin."
While Dinwiddie hasn't seriously approached any politicians about cryptocurrency, he has involved himself with a variety of business ventures—including his app Calaxy—each with a focus on the long-term.
[RELATED: Washington Wizards team page at FortyEightMinutes]
---
Dinwiddie Reveals Best Business Advice Given to Him
Dinwiddie comes from a family with business ties. His mother, Stephanie, took an untraditional path after obtaining her PhD. from USC, owning and operating a pre-school in California. Dinwiddie's father, Malcolm, worked as a real estate agent, and the business lessons that the elder Dinwiddie learned have guided Spencer off the court; the value of having patience being chief among them.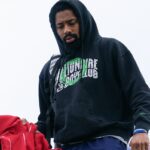 "There's always another deal," the 28-year-old entrepreneur told FortyEightMinutes when asked about what the best piece of business advice he's ever received was.
Real Estate isn't alone in that it's a business where the financial returns can be great, though risk-reward is truly the key metric. Maintaining patience and not simply chasing gains is the key to long-term business sustainability.
"Stay true to your process," Dinwiddie continued. "There's always another deal. Especially if you are already making money, making more money is not to be the hardest thing."
Dinwiddie's process includes having an underlying belief in the products, services, and businesses he involves himself with. His latest undertaking is a partnership with Breinfuel, a sports drink that sources natural caffeine to a non-coffee base in order to provide an all-day focus for mental athletes.
"They have healthy ingredients to make it a more sustainable type of energy and focus without the negative side effects like massive amounts of sugar," Dinwiddie explained.
Dinwiddie understands the importance of focus whether it's a means to avoiding mistakes on the court or maintaining patience in business in order to avoid more costly turnovers off of it.
---
More Sports Business
EXCLUSIVE: Mark Cuban Talks NFTs, More with FortyEightMinutes
How Dwyane Wade Broke Into the Wine Industry