---
Dallas Mavericks owner Mark Cuban caught up with FortyEightMinutes.com contributor Landon Buford for a one-on-one interview. 
---
FortyEightMinutes: The Mavs finished the last season again losing in the first round against the Clippers, do you see them and Steve Ballmer now as rivals?
Mark Cuban: No, no it's not like there was against San Antonio. We're not in the same division, you know? We just happened to play them twice. It would have been like if we'd played the T-wolves a second time. It needs to be more long-term and we need to win a couple of series before it to be rivalry.
F8M: What have you learned from Steve Ballmer off the court?
Cuban: Nothing (laughs). I like Steve. I don't know if I learned anything from him, He's a good guy, smart. He knows his shit, but I can't really say I've learned anything.
Let's talk play-in tournaments and potential midseason tournaments. Some players have been on the record about it saying there had to be incentives for those guys to do it?
Well, there's the play-in tournament, which I liked. I just didn't like last year with all the COVID issues. Okay, well we just create a different level of pressure. But generally moving forward, I'm fine with it in a regular season.
In terms of an in-season tournament, I'm not a fan. I am definitely not a fan. It's just I can see the Mavs just not participating at all or resting our best players because until they give me one of those things back there (points to trophy behind him) the Larry O'Brien for that, you know, the prize is the prize and you got to keep your eye on it.
I saw it with the (Seattle Storm of the WNBA). They won right after they came back from the Olympics, it didn't really help them because in the playoffs, they had a second-round exit.
If we were to play two different seasons. Season A and season B; you a Larry O'Brien trophy for both? Yeah. OK, then we can talk about it because that's effectively what you're asking to do.
Just having a midseason tournament? No. Play two 41 season games with maybe a five-game playoff series on each if that's what we want to do. But, we'd have to really talk a lot about that.  Just breaking it up? I think that's an admission that we have a problem and we're trying to deal with the symptoms rather than the problem.
Basically putting a bandaid on a bigger situation.
Look, TV is our biggest customer. And we know we have a challenge transitioning from linear television to streaming because the viewing habits of Gen Z are different.
They consume a boatload of basketball on TikTok. My son will watch TikTok highlights of the NBA all day, every day, but won't know what time the Mavs game starts. It looks better for us if the rating is there, and he's watching the whole game, right? But in reality, he's consuming more video than he would if he watched the game.  We just don't get paid for it the same way. And the players don't get their 51% share that way.
And so we've got to come up with ways that make it better for people who like to consume it TikTok style, or Instagram Reels style or YouTube style. And I don't see a midseason playoff solving that problem.
I'd rather, and I've said this many times before, that we limit our participation in the Olympics to players 21-and-under and have our own World Cup every couple of years. That creates the content that we need to make our partners happy.
With all the (player movement) in the league, will that be addressed going into the next CBA from the owners' side? Because obviously, players are forcing their way out (of situations with teams) with years left on their contract.
Yeah, I don't even know. We'll see. We'll have a conversation as we do about everything. We'll see what happens.
---
🎯 𝐁𝐞𝐭𝐭𝐢𝐧𝐠 on the 𝐍𝐁𝐀 Opening Night?

🏀 Get up to $250 in FREE wagers via deposit match @PointsBetUSA

🟦 Promo code: MVP250
(Restrictions apply. NJ, IA, IL only). pic.twitter.com/UX6ljGejij

— FortyEightMinutes⏳ (@FortyEightMins) October 19, 2021
---
Do you think an international player will ever be the face of the NBA? Some say that you can't sell it. Obviously, you have two of the biggest international players in the world right now on the team.
Yeah, of course. I think it's in a process of happening because who gets the
sneaker deal? That drives part of it. Who gets the commercials? That drives a big chunk of it. Who has the personality and the charisma? That drives a big chunk of it. We live in a global world. When kids go on TikTok, they don't do a nationality check. Is it fun? Is it engaging? Is it compelling? You know, do they want more of it? So I think, Yeah, whether it's Luka, KP, whoever but Luke is obviously on that path. If Lukas shoes come out and sell and that's the shoe to have. Doesn't matter where he's from.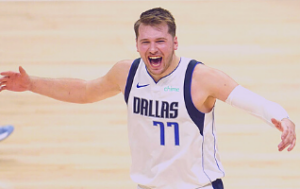 Obviously, Luka and KP have been grabbing the majority of the headlines this summer but what are your thoughts about Jalen Brunson and (Dorian Finney-Smith)? What are your expectations for those two, specifically, this season?
Keep on growing! Look, there's a whole new regime and the start of our new future, and I think it is more about the team than anything else. Can we play together, particularly defensively as a team, and if we all get better. Our offense is going to be there. I mean, we are not going to score 130 points in everything game, but we will have that ability. So, it is really how good team defense we play, and if we make that leap like we are trying to do, everyone will look good. And everyone is going to reap the rewards.
How do you think J-Kidd can help Brunson, Luka, and some of the other point guards on the roster?
Well, it's not just point guards. Obviously, he's like the chess master, he's seen all the moves and read all the books already and so you know when something happens in a game or in preparation for a game for any of our guys you know he can tell guys 'here's what's going to happen' and as the game is unfolding he's playing chess. He's seen it two steps ahead because that's what made J-Kidd great.
J-Kidd also was really good at knowing where to apply pressure and I think that's one of the things Luka will learn. Luka as a player and as a passer and as a scorer is already really good but knowing how to apply pressure to impact the game differently than it has in the past in new ways, I think J-Kidd will help him plus just maturing as you play more games you learn more.
People don't realize you know two of Luka's three seasons have been shortened so he hasn't gotten the full benefit. It may not seem like a lot but for all young players the past two years are a little bit behind where they otherwise would be and so I think this will accelerate his ability and all our young guys, JB included.
I know you're big into NFTs and Crypto, how do you see them changing the sports, entertainment, and media industry?
I don't know if it changes it. I think it creates new opportunities like we're working on now.
What we're trying to do with NFT's is everybody who goes to a Mavs game, and scans their smart ticket from Ticketmaster, and has a Ticketmaster account. We're going to deposit a specially created NFT for Mavs fans for every game you attend. And the more in the more games you attend, the more NFT's you'll get and the more consecutive games you attend, you'll be rewarded for going to a lot of games.
So if LB buys a ticket on the Mavs' website through Ticketmaster and goes to the game and scans in your account, then when the game is over, you'll be able to go to a website we're setting up and the NFT collectible will be there for you. And if you go to 10 games in a row or go to 10 games in total, we'll gamify it and there'll be different rewards just for that. And so that's something we're working on right now in our testing.
Beat me to the question. Was going to ask if you had any plans to roll out any NFTs.
For sure this season. You won't have to buy them, they'll be free.
So they won't have a price tag?
They'll all be for free but you can't just buy a ticket and not go to the game. You can't buy a ticket just to get the NFT. What gets you the NFT is that you actually attend the game.
Once you attend the game and scan your smart ticket,  you'll be able to log in, and there'll be a wallet that's automatically created for you.
That's dope. Also makes sure that fans are actually coming to the games.
The whole idea is not to try to sell (the NFTs) and try to make some money off them. The whole idea is to reward fans for coming.
Let's say Luka has a 30 assist game. There are going to be 500,000 people that say they were there right? But the reality is, the people that are actually there and scan in are the ones that are going to get the NFT commemorating that game. And we'll do something special for anything that happens in that game and the fan can hold it as a collectible or they can sell it somewhere else. We want it to be a value add for all Mavs fans that go to games.
Let's talk about your Fireside app that launched recently. I know it allows users to turn content into NFTs. Do you think this is limited to bigger personalities or can anyone find success with it?
Anyone can find success with it but the beauty of Fireside isn't really the NFTs but imagine we were doing this (interview) live. The thing about Fireside is that it has tactile feedback, so that people who are listening live in the audience—and you can set up as big of an audience as you want. You can keep it small, make it big, you can issue tickets, whatever. But there are little response buttons. So if you want to clap, you just hit the clap button. And the people doing the podcast hear you clapping as if you were doing it in front of a live audience.
That's dope.
It's really cool. So if we're talking here and you kind of anticipate in the back of your mind that, 'okay, when people hear this, they're gonna think X, Y and Z, right?' And that's kind of how you do a podcast. Well, you do this on Fireside chat and this conversation, and people can clap when I say this, or not clap, which is the same as booing effectively, you know, or you can just turn all that off being the content creator. But you have all these controls so you can get all the feedback.
I have to ask about another potential NFT: the 2011 championship team. It's been 10 years. How much do you think that NFT would go for?
I don't know it's hard to value things right? But we're not going to put out NFT's trying to just sell them to make money.
We're trying to make it so that we put we reward Mavs fans who go to games and we may even do it for Mavs fans that watch games and issue them a different NFT. And then if there's enough demand for them, they can sell them and whatever they make is an offset to their season ticket.
I have to close with a crazy trade rumor I saw from back in 2001. There was a report that you were engaged in talks with the Raptors for Vince Carter in exchange for Dirk Nowitzki and Steve Nash. How true was that?
False. 100 percent false.
I thought so but I had to ask while I had you here. I will definitely debunk that story.
I've never had a trade talk ever for Dirk Nowitzki. Ever. We got calls but we never called anybody, never said we'd be interested or would consider listing to calls.
This exclusive Q&A has been edited for length and clarity.
---
Read More
48 Bold Predictions for the 2021-22 NBA Season
NBA Trade Rumors page at FortyEightMinutes