---
The 2022 NBA trade deadline brought many changes throughout the league, including a retooled Big-3 in Brooklyn, a grand new duo in Philly, and a risk-reward bet in Washington D.C.
The staff at FortyEightMinutes is tackling it all, one Wordle at a time, while also providing some explanation for their five-letter word choice.
---
Nets Wordle:

🆂🅷🅾🅲🅺
Sameer Kumar: Thirteen months after acquiring James Harden, the Nets decided to trade him to the Sixers; The Big 3 of Harden, Kevin Durant, and Kyrie Irving will have only played 16 games together.
This will easily go down as one of the biggest "what-ifs" in NBA history, as arguably the greatest Big-3 ever assembled got such little time together to try and win a championship. It's shocking that this experiment ended as soon as it did because when the trio were all available, they were nearly unstoppable, owning a record of 13-3. It's fair to wonder how things would've played out if Irving had just got vaccinated or if the team happened to play in a city where the mandate didn't force the point guard to sit out home games.
But the Nets now have Ben Simmons, still just 25 years old and a threat to score in transition and when lanes are open. Having Irving and KD stretch the floor will give Simmons all the room he needs to operate. Simmons is also the elite on-ball and switchable defender the Nets so desperately needed.
𝐅𝐮𝐥𝐥 𝐓𝐫𝐚𝐝𝐞 𝐃𝐞𝐭𝐚𝐢𝐥𝐬:

Sixers receive:
♦️ James Harden
♦️ Paul Millsap

Nets receive:
♠️ Ben Simmons
♠️ Seth Curry
♠️ Andre Drummond
♠️ 2022 1st-rounder (option to defer)
♠️ 2027 1st-rounder (protected 1-8) pic.twitter.com/UKFp0aXnlS

— FortyEightMinutes⏳ (@FortyEightMins) February 10, 2022
The other additions in the trade cannot be understated. Seth Curry is also an excellent 3-point shooter who will thrive with the open looks he'll get. Andre Drummond will provide the Nets with rebounding and rim protection, two areas the Nets have struggled with this season. They'll also be getting two first-round picks, which could definitely help bolster this roster even more down the road. The Nets got a nice haul all things considered.
Sixers Wordle:

🆃🆁🆄🆂🆃
Chris Crouse: Philadelphia finally has clarity after a messy situation with Simmons and while many doubted that the team had any leverage, Daryl Morey parsed the market with patience and found his second star.
Harden will join Embiid in a partnership that is expected to be one of the best on-court duos in franchise history. Those that never had trust issues with The Process are feeling validated.
Is Trust Given or Earned?

Sixers President of 🏀 Operations @DMorey answers:#TrustTheProcess | @FortyEightMins pic.twitter.com/3OHSo0YU77

— NBACrouse 🏙 (@ChrisWCrouse) June 22, 2021
Pacers Wordle:

🆂🆃🅰🆁🆃
Keith Rollins: Everything has to start somewhere or with something. This is the trade that began the Pacers' first intentional rebuild in decades.
The Pacers' conservative approach to drafting and free agency has been a strategy that has annually kept the team in the playoff conversation. Despite this approach, the team has never felt like a threat to win the championship. The Pacers organization for years has valued consistency and stability over the risk of exploring the unknown—that is why this trade feels so different.
In sending
Caris LeVert
to the Cavaliers for
Ricky Rubio
and picks, the Pacers get a chance to finally rebuild. Make no mistake, this trade makes the team worse in the present; LeVert, while inefficient at times, is a certified bucket, but what is lost in scoring is made up in flexibility.
Ricky Rubio
's expiring contract frees up over $17 million in cap space this coming offseason and the additional draft capital (netted a 2022 first-rounder, 2022 second-rounder) gives the front office even more tools to work with during the rebuild.
These picks, along with their own first-round pick (which should be even higher in the lottery now) and extra cap space, usher in a start of a new Pacer direction.
Cavaliers Wordle:
🅳🅰🅽🅲🅴
CC: Cleveland landed a piece in LeVert who should fit in well with the team's young building blocks. There's real excitement around the franchise for the first time since
LeBron James
left and while it's always best to proceed with caution (especially with a team that has success out of the blue), the Cavaliers have a cinderella-March Madness vibe to them.
---
Detroit Acquires Marvin Bagley in 4-Team Trade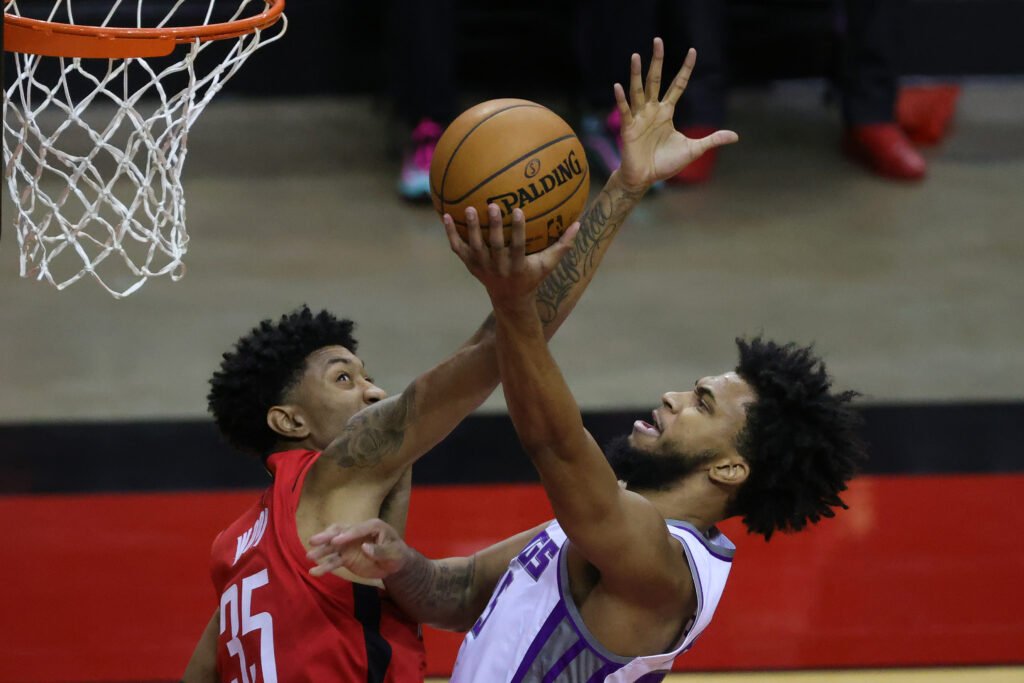 Pistons Wordle:

🆅🅰🅻🆄🅴
CC: Bagley's tenure in Sacramento didn't work out, though the former No. 2 overall pick will look to become the next in a long line of former top-5 overall picks to find success elsewhere after failure in their first stop
The 22-year-old will join the Pistons' up-and-coming squad with an opportunity to grow as a player with what will likely be a defined role for the first time in his career. Giving up Josh Jackson and Trey Lyles does nothing to impact the long-term future of the franchise while, in Bagley, they get a player who could blossom into a pillar for the franchise.
Bucks Wordle:
🅱🅻🅸🅶🅴

CC: We haven't seen Serge Ibaka prove he can still be a contributor for a contender in quite some time. Giving up Donte DiVencenzo in this deal is puzzling; not just for the uncertainty of Ibaka but also for else may have been out there. Getting the right fit on a championship team is a harder puzzle to solve than getting the maximum value, so the defending champs get the benefit of the doubt here.
Kings Wordle:
🅰
🅶🅰🅸🅽
CC: The shooting guard position in Sacramento has been a revolving door since Kevin Martin left in 2010. Tyreke Evans, Buddy Hield, Nik Stauskas, Ben McLemore, and Bogdan Bogdanovic are among those who brought excitement and hope to the future of the position, while each has fizzled out of that spot in their own way. Who knows if this is the place where Donte DiVincenzo elevates his career, though what's for sure is that the bar isn't high.
Clippers Wordle:
🆂🆃🅰🆂🅷
CC: Los Angeles added salary in the Norman Powell trade and they were able to save upwards of $30 million in this deal considering the luxury tax payments they would have had to make had Ibaka ($9.7 million) remained on the team instead of Rodney Hood and Semi Ojeleye (both on minimum deals).
---
Full Pacers-Kings Trade Details:#SacramentoProud
◽️ Domantas Sabonis
◽️ Jeremy Lamb
◽️ Justin Holiday
◽️ 2027 2nd-Round Pick#Pacers
◽️ Tyrese Haliburton
◽️ Buddy Hield
◽️ Tristan Thompson pic.twitter.com/TfyDs9KJv7

— FortyEightMinutes⏳ (@FortyEightMins) February 8, 2022
Pacers Wordle: 🅲🅷🅴🆂🆂
KR: In chess, a player not only has to have an immediate strategy but they must also have an end game strategy as well. Every move has to be evaluated not only in terms of present positioning but also how that move affects the long-term end game.
For Indiana, this trade not only impacts the team's short-term strategy but also improves their long-term outlook as well.
Tyrese Haliburton
has perennial all-star potential. Additionally, his maturity and basketball IQ gives him the potential to be what I like to call an "end game steadier". End game steadiers are players that are consistently able to make the right basketball decisions in high-stakes pressure-packed situations. Having game steadiers is sometimes the difference between going home with a win or going home with a loss. Tyrese has the potential to develop into that team captain that is able to steady the ship during any storm. This is a rare trait for a player so young.
Potential is talent unrealized, so while Tyrese has the potential to be an end game steadier he is not quite there yet. This helps the Pacers in the short term because it allows them to get him leadership reps without feeling the pressure to win. Losing D Sabonis, Holiday, and Lamb does makes the Pacers weaker in the short term, but sometimes a team has to take a few steps back in order to get a good running start.
Kings Wordle:

🅱

🆁🅴🅰🅺
CC: It's a shame that checkers isn't a five-letter word, though it's hard to fault the Kings for playing their own game.
Back in September of 2006, Facebook rolled out its platform to the majority of users (it had been only for certain college students up until that point). That was just months after the Kings' last playoff appearance. Facebook's name has since changed its name to Meta with an eye on the future and the Kings have doubled down with the hope that the first NBA Playoffs in Meta's history will include Sacramento.
While it's easy to understand the outrage of trading away Haliburton, who is a potential star and blue-chip asset, the duo of Sabonis and Fox should present the Kings with an opportunity to join the NBA's second-season party even if they are destined to go home early. Fans may want to cut the franchise a break via whatever platform they consume their Kings content.
---
Jazz Wordle:

🅶🆁🅴🅰🆃
Shyam Ramachandran: Take that word with a grain of salt, as one could use the word "great" in a sarcastic manner as well. This trade by no means was flashy simply for the sole reason that Joe Ingles—the most talented player of this trade—is out for the season.
Utah clearly feels good about where they are, 4th in the west, and trading Ingles now gives the team more flexibility around Donovan Mitchell and Rudy Gobert but most importantly, players that can contribute to winning this year.
It's tough to see either one of these guys being a huge contributor to Utah's season-long success, but this team certainly got just a tad better in the short term by moving Ingles for players who can suit up now.
Blazers Wordle:

🅼🅰🆉🅴🅳
SK: It's hard to understand why the Trail Blazers wouldn't want to give Nickeil Alexander-Walker an extended look with a lot of minutes to go around with Damian Lillard hurt and CJ McCollum out of the picture. The Blazers are getting Elijah Hughes, who they view as a developmental piece and a second-round pick in return, but NAW is younger than Hughes and has had more success in the NBA.
Portland could've easily gotten more for Alexander-Walker.
---
Clippers Wordle:

🆂🅰🆅🆅🆈
CC: Los Angeles took advantage of Portland's need to offload future money and collect assets in order to retool around Damian Lillard this summer and they did so without giving up much in terms of assets.
Keon Johnson could be something down the road but he's doesn't fit the Clippers stars' timeline. Surrendering the recent No. 21 overall pick along with two veterans on player-friendly deals—(Eric Bledsoe at $18M, Justise Winslow at $4M) and a future second-round pick is a low immediate price to pay to make major immediate upgrades.
Powell and Covington give the Clippers two pieces that will elevate the team once the Kawhi Leonard and Paul George return to the court; they also subtly give the franchise additional trade pieces should they look to swing a deal for their point guard this summer.
Blazers Wordle:

🅳🅸🅲🅴🆈
SK: The Trail Blazers did not get the assets they could've gotten by trading away Norman Powell and Robert Covington, as both can light it up from three and defend at a high level.
Powell is on a long-term contract, so it makes sense why Portland would want to trade him now if they don't see him as part of their future. However, Covington is on an expiring deal but provides immediate value to a contender. Both on their own could've gotten at least a protected first-round pick. All they got was a second-round pick and a look at Keon Johnson. Maybe the luxury tax relief and open cap room could give the Blazers more flexibility to build their roster around Damian Lillard, but they could've done much better in getting assets in return.
---
Brad Stevens Executes Three Trades
Celtics Wordle:

🅲🅰🅽🅽🆈
CC: Boston added Derrick White and reunited with Daniel Theis while clearing out several players who were not going to be long-term fits with the franchise in Josh Richardson (to the Spurs) Dennis Schroder, (Rockets), and Enes Freedom (Rockets). The team also sent out Romeo Langford (Spurs), Bruno Fernando (Rockets), Bol Bol (Magic), PJ Dozier (Magic), and a handful of picks (second-rounder exchange with Orlando; a first-rounder and a pick swap to San Antonio).
While it may sound like the Celtics surrendered a lot, sometimes less is more. The team was able to tighten up the rotation, open up room for someone on the buyout market and duck the luxury tax, all while adding a new starter in White who's expected to mesh well with Jayson Tatum and Jaylen Brown.
Rockets Wordle:
🅱🅾🅾
🅺🆂
CC: For Houston, the move to bring on Schroder, Freedom (since waived), and Fernando is about further cleaning up its cap sheet after this season (all three are on expiring deals while Theis' contract runs through next year).
Magic Wordle:

🅲🅻🅾🅲🅺
CC: Orlando is near the bottom of the standings and picking up additional draft picks is nice for a team that's expected to be one of the first clubs on the clock in the 2022 NBA Draft.
---

Spurs Make Trade For Raptors' Goran Dragic Among Other Moves
Spurs Wordle:

🅽🅾🆅🅴🅻
CC: San Antonio is typically quiet at the trade deadline, rarely making deals, though this year was different with three trades total coming from this part of Texas.
The club netted two first-rounders (one each from Toronto and Boston), a pick swap (Boston), and a few veterans in Tomas Satoransky, Josh Richardson, and Goran Dragic, the latter of whom is expected to be bought out, as they surrendered real contributors in Derrick White and Thaddeus Young (as well as Hernangomez, who was acquired in January).
Given Gregg's Popovich's track record, we can never rule the Spurs out from making some sort of play-in run to finish the season. However, it's looking like the club will be in player development mode with eyes perhaps on a higher pick in the 2022 draft as well.
Raptors Wordle:
🅴🆇🅰🅲🆃
CC: Toronto gets exactly what they need in Young, a versatile small-ball center who should give Nick Nurse even more options on the defensive end. The franchise had been shopping Dragic and a pick for much of the season and the price point for their new veteran is exactly what they wanted to give up for a new contributor.
---
Pelicans Land CJ McCollum, Make Push for Play-In Tournament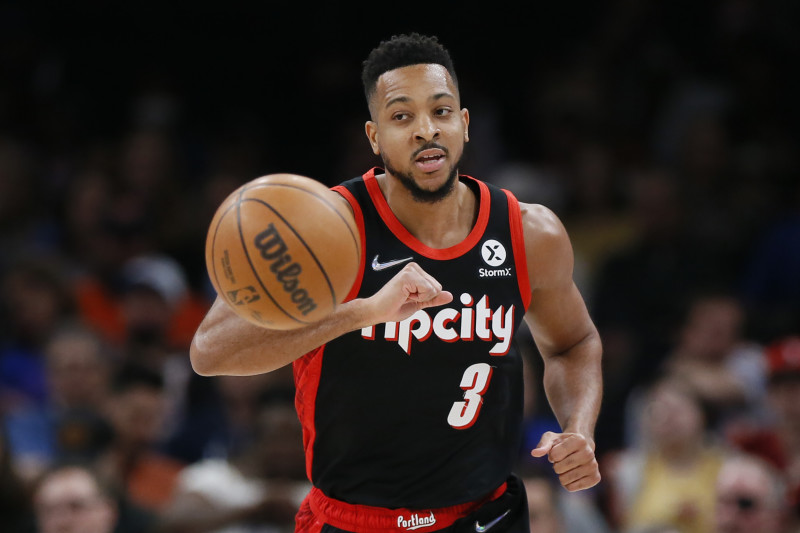 Pelicans Wordle:
🅵🅸🅴🆁🆈
SR: New Orleans may have had to move a fair share of players to get a formidable return centered around CJ McCollum. The star shooting guard who had referred to Portland as home for his entire career will now suit up for a Pelicans team trying to secure a play-in spot.
The star guard has averaged 20.5 points, 4.5 assists, and 4.3 rebounds in 36 games this season and now joins forces with Brandon Ingram who has averaged 22.9 points, 5.8 rebounds and 5.5 assists through 40 games. It's worth noting that Larry Nance Jr. is expected to miss six weeks due to knee surgery, per ESPN's Adrian Wojnarowski and Zion Williamson has yet to take the
floor this season.
The pair of big men should hopefully be back healthy and ready to go down the stretch when the Pelicans are firmly in the mix for a play-in spot, but they should tread carefully with the
Blazers and Kings on their tail.
Blazers Wordle:

🆂🅰🅿🅿🆈
SK: McCollum has been a huge part of the Trail Blazers organization for nearly a decade, as he and Damian Lillard have formed one of the best duos in franchise history. However, all good things must come to an end, as the Blazers are clearly in a transition phase as they hope to retool their roster around Lillard. The Blazers are getting a solid all-around player on both sides of the ball in Josh Hart as well as a protected first-round pick (5-14). It was tough for Blazers fans to trade McCollum, but this is a trade that will help them retool for the future.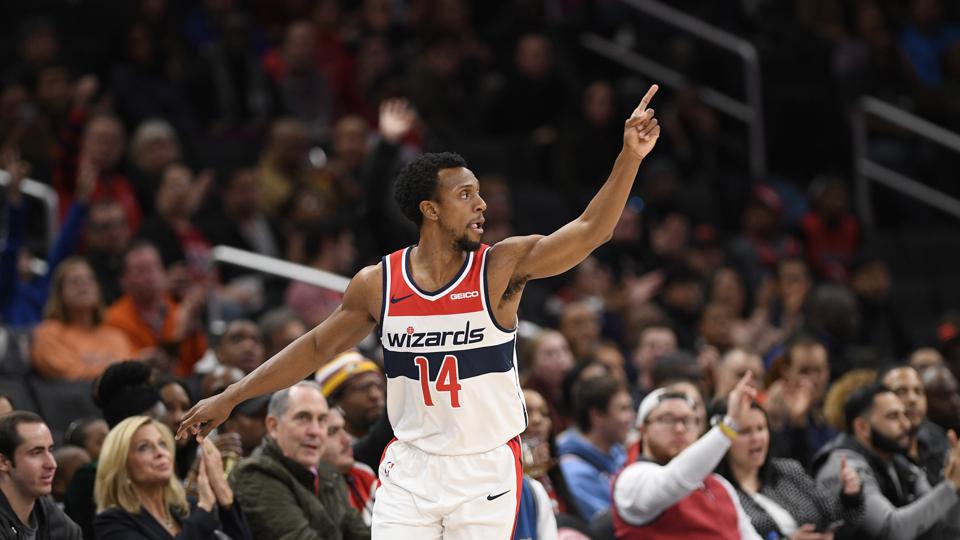 Hornets Wordle:
🅳🅴🅿🆃🅷
CC: Harrell will be a presence for Charlotte off the bench as he helps solidify the team's second unit. The Hornets want to make noise in the playoffs and depending on their matchup, Michael Jordan's club won't be an easy out due to having a deeper team post-trade deadline.
Wizards Wordle:

🆁🅸🅶🅷🆃
CC: Bringing Ish Smith, who is beloved by the franchise, back to Washington just feels right. The 11-year veteran, who has played for 12 franchises, may have finally found a place where he can settle in and be a stable presence for a shifting roster.
Suns Wordle:

🅲🅾🆅🅴🆁
CC: The Suns didn't really have any needs coming into the deadline, though in Holiday and Craig, they gain additional depth at reasonable prices (cash considerations; Jalen Smith) to cover themselves in case of injuries down the stretch.
Wizards Wordle:

🆂🅿🅰🆁🅴
CC: With Ish Smith back in the fold, the team could afford to spare some of its depth, essentially giving Holiday, who came to the Wizards via trade this offseason, away to the defending Western Conference champs.
---
Mavericks Wordle:

🆆🅴🅸🆁🅳
SR: Dallas is once again trying something new. The time with
Kristaps Porzingis
was fairly short-lived, as the 26-year-old Latvian looked more like a project than a long-term answer as he struggled to stay healthy. Acquiring
Spencer Dinwiddie
and
Davis Bertans
is big, given the fact that availability and depth is what Mavericks need to surround
Luka Doncic
with at this point.
#DCAboveAll – #MFFL 𝐓𝐫𝐚𝐝𝐞 𝐃𝐞𝐭𝐚𝐢𝐥𝐬

Wizards receive:
🔹 Kristaps Porzingis
🔹 Future 2nd-round pick

Mavs receive:
🔹 Spencer Dinwiddie
🔹 Davis Bertans pic.twitter.com/N0qNBTpZE2

— FortyEightMinutes⏳ (@FortyEightMins) February 10, 2022
Wizards Wordle:

🅲🆁🅰🆉🆈
SR: Apart from the nice wordplay of alliteration in "Wizards Wordle" this trade was crazy, to say the least… and yes that's in spite of the
Harden-Simmons blockbuster deal
between the Nets and Sixers.