There were recent rumblings that new Pelican CJ McCollum hasn't yet had a chance to speak with Zion Williamson and J.J. Redick, who played alongside Williamson for two seasons, shed some light on the situation in New Orleans.
"This is a little bit insane to me. There's a general decorum of behavior that you should apply as a teammate, Redick explained on First Take.
"This is a pattern of behavior with Zion that we are seeing again and again. And look, I was his teammate. I can describe him as a detached teammate. That is an accurate statement," Redick continued. "This is basic level of humanity, being a teammate. Send a text to a guy when he gets traded to your team. That is just normal behavior. That's the bare minimum that you have to do.
It's unclear what exactly Williamson's issues are with the Pelicans, though there have been rumors about him wanting out ever since he was drafted with the No. 1 overall pick back in 2019.
"This is going back to his rookie year," Redick explained. "There's a responsibility that you have as an athlete when you play a team sport to be fully invested. You're fully invested in your body, you're fully invested in your work, and you're fully invested in your teammates. That is your responsibility, and we have not seen that from Zion."
Rival executives around the league are eyeing the Pelicans' situation and preparing the day that Williamson demands a trade from the franchise. That may not come this offseason or even before next year's deadline, but it appears evident that it will happen at some point.
Can Pelicans Make Postseason Run?
Williamson could return to the team at some point this season despite his level of long-term commitment to the franchise and surely, the front office would love that given the moves they made at the trade deadline with the short-term of making the playoffs in mind.
New Orleans has gone 1-4 since McCollum arrived but the team sits just two games back of the Blazers for the 10th seed in the conference (which is the final play-in tournament spot).
Oddsmakers have see the Pelicans as unlikely to make the postseason despite the front office's efforts (+600 to make the postseason at PointsBet; -910 to miss it). Perhaps they get a sense that Williamson won't be returning to this team for the stretch run.
---
Bet on the Pelicans Risk-Free at PointsBet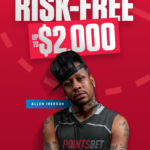 ---
Read More on the NBA
LeBron James Hints at Return to Cleveland
Future Bets: Underrated Celtics Providing Market Value?