The NBA Draft is right around the corner and FortyEightMinutes put together a full 60-pick mock draft using Tankathon to randomly assign the lottery picks.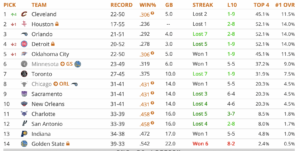 In our staff Mock Draft 2.0, the Cavaliers grabbed the top spot followed by the Rockets, Magic, and Pistons who round out the top four selections.
Let's get into the picks:
---
1 – Cleveland Cavaliers – Cade Cunningham, 6-foot-8 forward, Oklahoma State
Cade Cunningham would be the best option for the Cavaliers with the No.1 pick. Cunningham was an All-American who averaged 20.1 points per game on 40% shooting. Cunningham could be the most gifted offensive player in this draft with all the tools.
Even with Garland and Sexton in the picture the fact that Cunningham is 6-foot-8 gives him the ability to play shooting guard or small forward. The Cavs are still expected to pursue Jarrett Allen as well who is a restricted free agent for them this summer which would most likely rule out them going after a player like Evan Mobley with this selection.
If the Cavs land Cunningham, this team will not be that far off from starting to compete for a playoff spot in the East.
2 – Houston Rockets – Jalen Green, 6-foot-6 guard, G-League
Rockets will look to add a centerpiece for a team that is still looking for its identity. Jalen Green is a prospect that can do it all and would be a guy Houston can build around moving forward. Green could have the most upside in a draft that has a lot of star-studded potential.
Rockets would still be far off from being a competitive team in the West but adding Green would be a very good start.
3 – Orlando Magic – Evan Mobley, 7-foot-0 center, USC
Mobley gets a lot of question marks by analysts questioning his strength and build but his overall talent is nothing you can question. Mobley is a dominant forward/center who is extremely hard to maintain and guard. Mobley averaged 16.4 points, 8.7 rebounds, 2.9 blocks, and shot an outstanding 57.8% from the field per game.
Orlando is in a place where they will select the best available player over need and if Mobley is there at No.3 and already having Cole Anthony at the point guard position it would be hard to see them pass up Mobley.
4 – Detroit Pistons – Jalen Suggs, 6-foot-4 guard, Gonzaga
Jalen Suggs, who went No. 1 in our first Mock Draft of the season, may just be the best two-way player in this draft. If you watched the NCAA Tournament even a little bit you probably saw his iconic game-winning jump shot but more than just his clutch genes he can do so much more including being a great defender and an excellent passer.
Detroit is looking for that key guy to build around alongside Jerami Grant, Saddiq Bey, and Killian Hayes, and adding Suggs just makes too much sense. Pistons are in a position where they can draft the best available player over need and with Cunningham, Green, and Mobley off the board, that guy is Jalen Suggs.
5 – Oklahoma City Thunder – Jonathan Kuminga, 6-foot-6 forward, G-League
Jonathan Kuminga was teammates with Jalen Green this past year in the G-League and caught a lot of attention even under the shadow of Green. Kuminga averaged 15.8 points and 7.2 rebounds per game.
OKC is in a spot where this team will be built over the next multiple years with the number of picks they have. Kuminga is an athletic shooting guard/ small forward who would pair well with Shai Gilgeous-Alexander
6 – Golden State Warriors – Scottie Barnes, 6-foot-8 forward, Florida State
This is a perfect and ideal fit. Scottie Barnes had a terrific year at FSU and he came off the bench. This Warriors roster is already well put together. Especially, next year with Klay Thompson expected to return.
Barnes is known for his defensive presence. And being a power forward who better to learn and get better from than Draymond Green? Barnes is only 19 years of age so he will be able to grow into his role in Golden State but still make a key impact right away.
7 – Toronto Raptors – James Bouknight, 6-foot-5 guard, UConn
James Bouknight is a proven scorer and a guy who put a struggling Uconn program back on the map last season. Bouknight averaged 20.2 points and 5.6 rebounds per game.
Toronto needs a guy who can score at all phases on offense and James Bouknight is that type of guy. Raptors also could look to head in a different direction this off-season as well which could lead to a little bit of a re-build of this team and to get Bouknight to potentially start that alongside Vanvleet and Siakam wouldn't be a bad option.
8 – Orlando Magic (Via Chicago) – Moses Moody, 6-foot-6 guard, Arkansas
If Orlando can land Evan Mobley early on, they may look to add a scoring guard alongside Cole Anthony. Moses Moody would be a perfect addition to the Magic. Moody averaged 17.5 points per game last season.
9 – Sacramento Kings – Kai Jones, 6-foot-11 forward, Texas
The Kings and Marvin Bagley have not worked out the way many hoped it would. So don't be shocked if you see the Kings draft in that similar position with this pick.
Kai Jones is a product in the making but a lot like Jalen Green he has some of the highest upsides in this draft and is capable of doing it all. Jones is one of my favorite prospects in this draft and would be a great option for the Kings at No.9.
10 – New Orleans Pelicans – Davion Mitchell, 6-foot-2 guard, Baylor
A lot of rumors have circulated that Lonzo Ball could end up elsewhere this off-season. If that in fact is the case Davion Mitchell would be the ideal option here for New Orleans. Mitchell is a really solid two-way player and knows what it takes to lead and win as Baylor were the National Champions this past season. Mitchell averaged 13.8 points and also added 5.7 assists per game.
11 – Charlotte Hornets – Jalen Johnson, 6-foot-9 forward, Duke
Hornets will need to address the center position in this draft but if Kai Jones goes before they pick there are not many centers to consider at No.11 due to the draft being guard-heavy.
Jalen Johnson would be a great addition to the depth and young core of this team even if he's coming off the bench behind Miles Bridges. Johnson also doesn't need the ball in his hands to be productive and contribute.
12 – San Antonio Spurs – Josh Giddey, 6-foot-8 guard, Australia
Giddey is a 6-foot-8 point guard who can fill up the stat sheet and contribute in a bunch of different ways. Giddey is still developing and there's no better place for a European guard to go than with Coach Pop in San Antonio. Giddey averaged 10.8 points, 7.6 assists, and 7.3 rebounds per game
13 – Indiana Pacers – Keon Johnson, 6-foot-5 guard, Tennessee
Pacers need an all-around scorer and Keon Johnson did only averaged 11.3 points per game last season but he's still extremely young and a guy who will develop his game a lot more under the right system but the skies the limit for Johnson and the Pacers would be a very good fit for him to grow. He could have a great impact off the bench for Indiana.
14 – Golden State Warriors – Corey Kispert, 6-foot-7 forward, Gonzaga
Kispert is the 2nd player from the Zags that could go in the lottery and for Golden State why not add some more shooters? Kispert debatably was the best overall shooter in college basketball last season.
Coming off the bench for the Warriors alongside Scottie Barnes and Jordan Poole would be a perfect fit. He also could fill Klay's void until he is fully back and once he's back could fit right in behind Andrew Wiggins.
15 –  Washington Wizards – Ziarie Williams, 6-foot-8 forward, Stanford
Ziaire Wiliams was only a freshman last season but you could tell he was Stanford's best player. You could also see the potential in his game. Williams would fill a much-needed void at the small forward position for the Wizards that they lacked last season.
16 – Oklahoma City Thunder – Franz Wagner, 6-foot-9 forward, Michigan
Grabbing a player like Wagner at No.16 brings great value after acquiring this pick from the Celtics. Wagner averaged 12.9 points and 6.3 rebounds per game last year on one of the best teams in the country. Wagner could play a key forward role for the Thunder.
17 – Memphis Grizzlies – Ayo Dosunmu, 6-foot-5 forward, Illinois
Ayo Dosunmu is one of the best all-around players in this draft with a lot of experience. Dosunmu can make an instant impact on the Grizzlies.
This would be a perfect fit for both sides and with Memphis being a small market team the draft is even more important for them to get picks right. Dosunmu is going to be a very good NBA player and he is built for the league's playstyle.
18 – Oklahoma City Thunder (via Miami) – Josh Christopher, 6-foot-4 guard, Arizona State
Christopher heading into college was one of the biggest and most popular prospects. Ultimately ASU underperformed this season but Josh Christopher did not.
Christopher averaged 14.3 points and 4.7 rebounds per game as a true freshman. OKC is in a full-blown rebuild so grabbing guys with a lot of potential will be the way to go.
19 –  New York Knicks – Cameron Thomas, 6-foot-4 guard, LSU
Thomas is a proven offensive scorer. As a freshman, last season Thomas averaged 23.0 points per game and can score from anywhere on the court. Thomas would be a key weapon off the bench for the Knicks and a lot like Lou Williams he could be very productive right away due to his aggressive mentality.
20 – Atlanta Hawks – Miles McBride, 6-foot-2 guard, West Virginia
McBride would be a nice scorer to place behind Trae Young. Atlanta has a very nice young core but they are lacking a backup point guard. Adding a player like McBride will give this Hawks team depth and confidence once Young needs to go to the bench.
21 – New York Knicks (via Dallas) – Charles Bassey, 6-foot-11 center, Western Kentucky
Bassey led the way for WKU last season averaging 17.6 points and 11.8 rebounds per game. Bassey will pair well alongside or behind Julius Randle and is a guy who can instantly see minutes for the Knicks if they don't re-sign Nerlens Noel. He didn't see a lot of national news playing for Western Kentucky but Bassey is a very talented big.
22 – Los Angeles Lakers – Johnny Juzang, 6-foot-6 forward, UCLA
Juzang had a great year last season but you really noticed him in the NCAA Tournament when he led UCLA all the way to the final four. Lakers need a guy who can create his own shot and score from all around the court. Juzang would give LA that. Juzang scored the 2nd most points in UCLA basketball history in the Tournament this past year.
23 – Houston Rockets (Via Portland) – Jaden Springer, 6-foot-4 guard, Tennessee
Springer's age and athletism are what keeps him in round one and potentially could get picked even higher. Like I mentioned earlier Houston is in a position where they are going to look for guys with upside and potential and Springer brings that to the table.
24 – Houston Rockets (Via Milwaukee) – Nah'Shon Hyland, 6-foot-3 guard, VCU
Hyland is a name that doesn't get a lot of hype and buzz but he averaged 19.5 points on 44.7% shooting. Hyland is a guy that over time will be able to add scoring and be an offensive weapon in whatever way the Rockets feel is best.
25 – Los Angeles Clippers – Tre Mann, 6-foot-5 guard, Florida
Clippers have struggled to find a long-term point guard alongside George and Leonard. They have solid guards but adding a talented guard like Tre Mann would be a great fit.
Mann is extremely gifted in scoring and passing. if the Clippers can land Mann here at No.25 this would be a great value.
26 – Denver Nuggets – Usman Garuba, 6-foot-8 forward, Spain
Garuba is listed as 6-foot-8 power forward/center. He's a solid 230 pounds which is a big reason he played as a big. Garuba is a guy who will need to develop but his upside is very high and he plays with a lot of energy and power. his game reminds you a lot of Kenneth Faried.
27 – Brooklyn Nets –  Chris Duarte, 6-foot-6 forward, Oregon
Duarte came on to the scene like a lot of players during the NCAA Tournament but was having a great season long before that. Duarte averaged 17.6 points per game and has a lot of experience coming in after playing all four years of his eligibility.
28 – Philadelphia 76ers – Jared Butler, 6-foot-3 guard, Baylor
Jared Butler was the leading vocalist for the Baylor Bears last season because he did it all. Butler can pass at a high level, and score in all ways, and is very solid on the defensive end. Butler averaged 17.1 points, 5.0 assists, and 3.2 rebounds per game. He'd be a great fit with the 76ers.
29 – Phoenix Suns – Greg Brown, 6-foot-9 forward, Texas
Brown was one of the better freshmen on Texas last season and with a Suns team that is very deep, he fits well in that power forward spot, a position which the team needs depth at the most. Brown could eventually see a lot of runs depending on how long Jae Crowder remains in town.
30 – Utah Jazz – Isaiah Jackson, 6-foot-10 forward, Kentucky
A lot like most of the Kentucky team last season they underperformed which dropped draft stock for some of the players but Jackson is very young and showed signs of promise throughout the season. If Jackson gets picked by Utah, he will have plenty of time to develop and expand his game.
Second Round
31 – Milwaukee Bucks – Shariff Cooper, 6-foot-1 guard, Auburn
32 – New York Knicks – Alperen Sengun, 6-foot-9 forward, Turkey
33 – Orlando Magic – Max Abmas 6-foot-1 guard, Oral Roberts
34 – New Orleans Pelicans – Marcus Bagley, 6-foot-8 forward, Arizona State
35 – Oklahoma City Thunder – Daishen Nix, 6-foot-5 guard, G-League
36 – Oklahoma City Thunder – BJ Boston, 6-foot-7 forward, Kentucky
37 – Detroit Pistons – DJ Stewart, 6-foot-6 guard, Mississippi State
38 – Chicago Bulls – Jeremiah Robinson-Earl, 6-foot-9 forward, Villanova
39 – Sacramento Kings – Isaiah Todd, 6-foot-10 center, G-League
40 – New Orleans Pelicans – Joel Ayayi, 6-foot-5 guard, Gonzaga
41 – San Antonio Spurs – Juhann Begarin, 6-foot-5 guard, France
42 – Detroit Pistons – David Duke, 6-foot-5 guard, Providence
43 – New Orleans Pelicans – Herbert Jones, 6-foot-8 forward, Alabama
44 – Brooklyn Nets – Day'Ron Sharpe, 6-foot-11 center, North Carolina
45 – Boston Celtics – Isaiah Livers, 6-foot-7 forward, Michigan
46 – Toronto Raptors –  David Johnson, 6-foot-5 guard, Louisville
47 – Toronto Raptors – Ariel Hukporti, 6-foot-11 center, Germany
48 – Atlanta Hawks – Filip Petrusev, 6-foot-11 center, Serbia
49 – Brooklyn Nets –  Aaron Henry, 6-foot-6 forward, Michigan State
50 – Philadelphia 76ers – Marcus Zegarowski, 6-foot-2 guard, Creighton
51 – Memphis Grizzlies – MJ Walker, 6-foot-5 guard, Florida State
52 – Detroit Pistons – Marcus Garrett, 6-foot-5 guard, Kansas
53 – New Orleans Pelicans – John Petty, 6-foot-5 guard, Alabama
54 – Indiana Pacers – RJ Nembhard, 6-foot-5 guard, TCU
55 – Oklahoma City Thunder – Roko Prkacin, 6-foot-9 forward, Croatia
56 – Charlotte Hornets – Raiquan Gray, 6-foot-8 forward, Florida State
57 – Charlotte Hornets – Feron Hunt, 6-foot-8 forward, SMU
58 – New York Knicks – Luka Garza, 6-foot-11 center, Iowa
59 – Brooklyn Nets –  Quentin Grimes, 6-foot-5 guard, Houston
60 –  Indiana Pacers – Matthew Hurt, 6-foot-9 forward, Duke