---
The NBA Draft is right around the corner and the writers at FortyEightMinutes put together a mock draft (lottery only) using the Tankathon to randomly assign the picks.
In this addition, the Timberwolves rose to the top, followed by the Pistons, Raptors, and Rockets to round out the top four selections.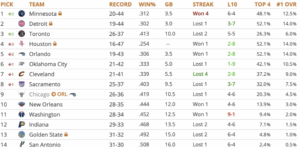 Let's get into the picks:
1 – Minnesota Timberwolves – Cade Cunningham, 6-foot-8 guard, Oklahoma State
Cade Cunningham is the prize of this draft class. Cunningham averaged 20.1 points, 6.2 rebounds, 3.5 assists, and 40 percent shooting from three per game in his lone season at Oklahoma State, but where he can thrive in Minnesota is on the pick-and-roll with Karl-Anthony Towns. Towns can cut off the pick and finish at the rim at a high rate or knock down the open three off the pick-and-pop.
If the Timberwolves get lucky with the first overall pick for the second consecutive year, this is the pick they need to make, as this could be the difference between Towns eventually leaving or staying in Minnesota long term.
---
Be sure to follow FortyEightMinutes on Twitter for the latest on the NBA draft + daily contests!
🚨 𝐍𝐁𝐀 𝐓𝐨𝐩 𝐒𝐡𝐨𝐭 #Contest 🚨

🏀 If ANY player in the #Celtics x #BeTheFight game tonight scores 𝐎𝐕𝐄𝐑 40 points…

🏀 We'll give one of Jayson Tatum's best #NBATopShot moments to one random follower 🎉

To 𝐖in:
➡️ Retweet This
➡️ Follow @FortyEightMins pic.twitter.com/ER3YaUqZpU

— FortyEightMinutes (@FortyEightMins) May 12, 2021
---
2 – Detroit Pistons – Jalen Suggs, 6-foot-5 guard, Gonzaga
The Pistons could use some buzz, not to mention some major backcourt help — and given Gonzaga's run in the regular season and NCAA Tournament, Suggs should offer plenty of both. He hit the tourney's most memorable shot, banking in a game-winner over UCLA in the Final Four, and boasts all the tools and plenty of toughness.
Suggs would immediately move merchandise and become the Pistons' Day 1 starter the moment his name is announced at the draft. Hard to go wrong there.
3 – Toronto Raptors – Evan Mobley, 7-foot-0 center, USC
Toronto rising this high in the draft would be a major win for the franchise and taking Mobley, who has the potential to be the top player in the draft, would help the Raptors fill the void that the Marc Gasol and Serge Ibaka departures left at center.
4 – Houston Rockets – Jalen Green – 6-foot-5 guard, G League Ignite
The Rockets receive an athletic guard to pair alongside Kevin Porter Jr. and someone to run the pick and roll with Christian Wood. Green is a great point guard to help start the rebuild for the Rockets. With the current situation in Houston, Green would have the ball a lot and because of that he'd be able to progress much quicker.
5 – Orlando Magic – Scottie Barnes, 6-foot-8 forward, Florida State
Barnes stands at 6-foot-8 and weighs in at 227 pounds. He is only 19 years of age so he could possibly still be growing. The Magic are currently log-jammed at the 1-3 positions, especially going into next season. So that's part of the rationale for the Barnes pick. He can play both the three and the four; he can even play some two if need be. Major talent who is only going to get better.
6 – Oklahoma City Thunder – Jonathan Kuminga, 6-foot-7 forward, G League Ignite
Kuminga is a 6'8 athletic forward who took the un-traditional route, playing for the G-League Ignite. The forward had sharpened his creation skill over the past year, and can provide another sense of playmaking. Kuminga is only 18-years-old and has nothing but time to improve.
– Kade Kimble
7 – Cleveland Cavaliers – Moses Moody, 6-foot-6 wing, Arkansas
The Cavs could some help … well, everywhere. Frankly, if they fall this far, they may look to trade the pick, provided they can land a proven young player in return. But even if they keep it, they could do worse than Moody, an all-around and intelligent wing with a high upside — who could perhaps replace the loss of since-traded Kevin Porter Jr.
– Sam Amico
8. Sacramento Kings – Keon Johnson, 6-foot-8 wing, Tennessee
Johnson is an excellent athlete and was a very good perimeter defender during his lone college season. In a league that's become considerably more perimeter-oriented, he could end up being the type of wing stopper the Kings need.
– Sam Amico
9. Orlando Magic – Franz Wagner, 6-foot-9 forward, Michigan
The Magic are in a tough spot at this pick (originally Chicago selection via the Nikola Vucevic trade) still having a need for a wing scorer. Wagner isn't exactly that but he provides the franchise with a potentially elite option off the ball.
If the younger Wagner (his brother Moritz is currently with the Magic) can find consistency with his shot, then he'd be a top option next to a score-first facilitator, whether that may be Markelle Fultz. Cole Anthony or another player they ultimately bring in.
– Chris Crouse
10. New Orleans Pelicans – Jalen Johnson, 6-foot-8 forward, Duke
Johnson has some flaws, like his inconsistent jumper, but his athleticism and passing ability stood out during his lone season at Duke. Johnson would be a unique fit next to Zion Williamson, whether it be a small ball lineup or with Zion at the three—a look Stan Van Gundy may continue to employ next season.
Johnson was a top-10 recruit in his high school class and he's just a jumper away from having all the tools necessary to be one of the top players from this draft class.
– Chris Crouse
11. Washington Wizards – Kai Jones, 6-foot-11 center, Texas
The Wizards could go in several directions with this pick, though if they are going to maximize the talent around Russell Westbrook and Bradley Beal, they'll need to look at players who could become stars. Kai Jones is just that.
The big man moves like a wing and has a bit of range. I don't want to say Anthony Davis-like, but he plays similarly. That said, Jones is extremely raw and with that comes risk. Although it's possible that another team sees the potential and scoops him up before the Wizards get to pick.
12. Indiana Pacers – Davion Mitchell, 6-foot-2 guard, Baylor
Mitchell is more of a scoring guard than a true point guard, a strong natural athlete who can fill it up. His jumper has improved with each season, turning into a reliable catch-and-shoot threat. He is also proving to be more effective at pulling up off the dribble.
And as his average of 5.5 assists this past season attest, Mitchell's playmaking abilities have also been on the rise. Basically, Mitchell is the best available all-around prospect remaining, and with Malcolm Brodgon and Caris LeVert already in the lineup, adding a talent such as Mitchell could give the Pacers an even more intriguing backcourt.
– Sam Amico
13. Golden State Warriors – Josh Giddey, 6-foot-8 wing, Australia
Giddey would be such an intriguing fit next to Stephen Curry and a healthy Klay Thompson. The 18-year-old compares his game to Ben Simmons, though he probably should be used as a secondary ball-handler at the NBA level. Still, he has a feel for the game and could come in right away and take some of the pressure off of Curry & Co.
14. San Antonio Spurs – Alperen Sengun, 6-foot-9, Turkey
Another international prospect for San Antonio and one that has been compared to both Nikola Jokic and Kevin Love. Sengun is an offensive force with clear skills as a scorer in and around the lane as well as a rebounder. He's undersized for the position, which could make defense an issue regardless of how he develops. Still, it any team is going to get the most out of him, it'll be San Antonio.
– Chris Crouse
Read More