The NBA Draft is right around the corner and FortyEightMinutes conducted a Mock Draft that included trades for every pick, including several Donovan Mitchell scenarios, one LeBron James deal, and multiple teams moving into the top-10.
Below is an excerpt from our 2022 NBA All-Trade Mock Draft: 30 Logical Deals, 30 New Selections.
---
No. 23 Pick
Philadelphia 76ers Land Donovan Mitchell in Four-Team Trade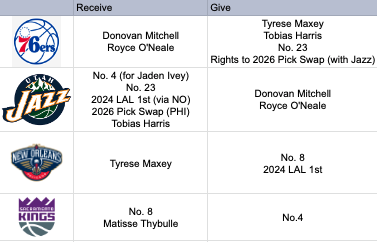 Why the Pelicans say yes:
New Orleans is ready to compete now and the franchise is armed with future draft capital. Bringing in a rookie with the No. 8 pick may not be the best course of action; the rotation is already filled with young talent and adding another prospect who could take time to develop doesn't exactly align with the franchise's current timeline. Maxey, however, has proven that he can contribute to a competitor, flashing All-Star potential for the Sixers. It worked out for the Pelicans the last time they moved two first-rounders for a Sixers point guard and this time is no different.
Why the Jazz say yes: 
Reports out of Utah suggest the team has no plans to trade Donovan Mitchell, though we've seen the franchise make sudden star trades in the past (Deron Williams circa 2011). In this scenario, the Sixers and Jazz quietly search for a third partner to send Maxey, who is the core of Philadelphia's trade package, finds the Pelicans willing to offer a package of picks, including the No. 8 selection. Utah has its sights on Jaden Ivey and is able to parlay Thybulle and the No. 8 pick to land the 20-year-old out of Purdue and they acquire fo Nikola Jovic (via the No. 23 pick, which Philly must make the selection and trade to Utah, as a result of the Stepien rule). After moving on from Mitchell, the Jazz are set up to remain competitive now while ushering in a new face of the franchise and collecting ammunition to make another move in the future.
Why the Kings say yes: 
Sacramento is rumored to be open to moving the No. 4 pick for more ready-now contributors and they've been linked to Thybulle in the past. The franchise agrees to move down four spots in the draft in exchange for adding Thybulle, who can immediately assist the franchise in its goal of getting back to the postseason.
Why the Sixers say yes: 
Maxey has blossomed over the past two years, though if Daryl Morey is going to swing a trade for another star, the point guard is really the only blue-chip asset the franchise has. And let's be clear: Maxey's trade value is right now super high, though there's a possibility that it may never get any higher. He'll be due for a rookie contract extension next summer. Maxey on a rookie deal is a home run. Maxey on a rookie-scale extension, which could be a max deal (or near it), means the task of projecting exactly what Maxey's career arc will be even more crucial.

We've seen a collection of late-round point guards similarly find success with contending teams and two cases stand out as a comparison for Maxey: Rajon Rondo and Ty Lawson. Both point guards found success early in their rookie contract with Rondo contributing to the Celtics' Big-3 championship and Lawson finding a role on 50+ win teams in Denver. Rondo would eventually become the star of the Celtics as their core aged while Lawson plateaued as an above-average starter with a couple of seasons of being an All-Star snub highlighting his resume. If the Sixers are confident that Maxey's career arc will look more like the former than the latter, they don't execute this deal. If they are more uncertain, they'd be wise to remain open to a Maxey trade that sees the club bring in a bonafide All-Star who fits alongside Harden and Joel Embiid. Mitchell is that guy and his arrival would immediately put the Sixers right back in the NBA title conversation.
You can find the entire mock draft here.