---
The Nets were swept by the Celtics Monday night, as there are a lot of questions surrounding the team moving forward.
Kyrie Irving's free agency is one of them, but he seems to be committed to the team he grew up rooting for.
"In terms of my extension, man, I don't really plan on going anywhere," Irving said. "So this is just added motivation for our franchise to be at the top of the league for the next few years."
Furthermore, he said he plans to get to work with several important members of the team, including his best friend Kevin Durant.
"When I say I'm here with Kev, I think that really entails us managing this franchise together alongside Joe (Tsai) and Sean (Marks)," Irving said.
More Buzz From Around The NBA
Ben Simmons didn't show up to the Nets' season-ending loss on Monday after he was initially expected to play. Simmons didn't play due to "physical and mental issues," as his back injury reportedly resurfaced. Simmons and his agent Rich Paul sat down with Nets GM Sean Marks, as Simmons expressed a desire to remain a Net, according to Adrian Wojnarowski of ESPN.

---

Some league executives don't necessarily buy Simmons' mental health claims, according to Steve Bulpett of Heavy.com. "To me, that's the only untouchable excuse that they could have to get his money back (from the Sixers)," a source told Bulpett. There's also a concern about if a head coach could get through to him. "He's been enabled his entire life. He's very aloof," the source told Bulpett. "He's a great player, but it's all the extra stuff that no one's held him accountable for, that's just made it difficult."

---

Some Nets fans are calling for Steve Nash to get fired as their head coach. Durant isn't necessarily on that boat. "Come on, man. Yeah. Steve's been dealt a crazy hand the last 2 years." The Nets are expected to retain Nash.

---

Bruce Brown is going to hit free agency this offseason. He addressed that after the Nets' loss Monday night. "Yeah, hopefully," Brown said. "The season just ended; I'm not thinking about it. If there's a chance to stay, we'll talk about it. But we'll see." Brown is expected to command anywhere from $12-$14 million annually, Wojnarowski reports (h/t Netsdaily).

---

The Nets will look to trade the first-round pick they acquired from the Sixers in the James Harden trade, Wojnarowski relays (same article). "Ultimately, they may never use a player from those draft picks," Wojnarowski said. "They're going to be trade assets."

---

Donovan Mitchell and Rudy Gobert's relationship has improved, Brian Windhorst reported on his podcast (h/t Hoops Hype). "I have been told that Donovan and Rudy are in a better place now than they were earlier this year. And that there is a spirit of working together," Windhorst said. "I know everybody's counting passes, and that's not irrelevant. But I have heard going into the playoffs that there was an attempt being made to, 'Let's all focus on one goal.'"

---

Ja Morant has been named the Most Improved Player, according to a league press release. Dejounte Murray, Darius Garland and Jordan Poole all finished behind him.

---

The Cavaliers and Ricky Rubio are "highly likely" to reunite this offseason, Chris Fedor of the Cleveland Plain Dealer relays. Rubio will be a free agent this offseason after tearing his ACL while with the Cavs this past season but found much success when he was healthy, averaging 13.1 points and 6.6 assists in 34 games.
Special Betting Offer From PointsBet
Offer: Two risk-free bets up to $2,000
States: New York, New Jersey, Illinois, Iowa
Promo code: MVPBET (T&C Apply)
Special Betting Offer From Fubo Sportsbook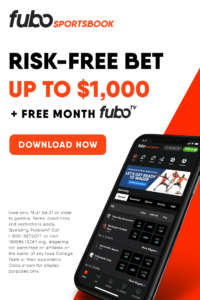 Offer: One risk-free bet up to $1,000 + one month of free FuboTV.
States: Arizona, Iowa
Promo code: MVPBET (T&C Apply).