The Knicks have been linked to Russell Westbrook on-and-off since the former MVP was with the Rockets, though Jake Fischer of Bleacher Report hears that New York isn't interested in adding Westbrook to this core (as he told Marc Stein via Substack).
"I pitched the idea to Knicks people time and again going back to the deadline, and they have no interest."
Westbrook has one year left on his contract, though there have been rumblings that he'll play elsewhere next season. Los Angeles is unlikely to waive Westbrook, so if he's playing for another NBA team next year, a franchise will have to trade for him.
Latest Draft Buzz
The Knicks currently own a record of 32-42 and while they are not technically eliminated from postseason play, a lottery appearance is all but certain.
The New York owns their own first-round pick this year and in our latest mock draft, New York landed the No. 9 overall pick in a lottery simulator. Shaedon Sharpe is an option for the team, as Chris Crouse wrote.
"Sharpe is a wild-card, having been the top recruit in the nation only to never suit up for Kentucky. He's essentially a lock to be a lottery pick, though it's fair to wonder if he would have been selected higher had he showcased his skills against some form of competition over the past year."
You can find our entire mock draft here.
---
B

etting on the NBA?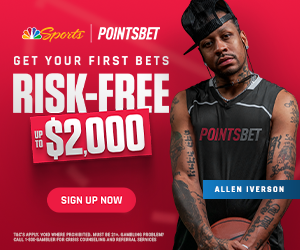 Get Up to $2,000 in Risk-Free Bets at PointsBet with Promo:  MVPBET
---
Read More on the NBA
2021 Mock Draft: Thunder land Jaden Ivey, Wizards get rising shooting guard
Rumors: Joel Embiid Wanted Bradley Beal over James Harden at Trade Deadline?