Ben Simmons last suited up in mid-February and although various reports indicated that he could return to the floor for the Nets, it's now clear that the former Sixers isn't playing again this season.
"For me as a coach, there's some things that I can control, some things that I can't control," Nets Coach Jacque Vaughn said prior to Simmons being shut down for the season.
"What I can't control is the impingement. What I can control is getting this group ready to play. And then in all honesty, the realism that he's probably not going to join us for the rest of the year … certainty will come once he continues to be looked at by specialists."
While Simmons' year is over and his future with the Nets appears on shaky ground, don't discount a major comeback for the former Rookie of the Year award winner.
---
Evaluating What Simmons Has Accomplished
Before his 2021 Sixers camp holdout, Simmons was on track to have a career that placed him in the Hall of Fame conversation.
At 24 years old, Simmons had four NBA seasons under his belt and an impressive resume that included earning three All-Star appearances, one All-NBA nod, two spots on All-Defensive teams, and a deserving, yet controversial Rookie of the Year award.
Simmons had also co-captained three playoff series wins and had 30.4 Win Shares at that point in his career, only trailing Domantas Sabonis among players from the 2016 draft class (Simmons' career Win Shares of 32.6 currently ranks fourth in his class, ahead of Jaylen Brown, Jamal Murray, and Dejounte Murray among others).
There are few players in NBA history with such a resume so young who didn't sniff the Hall of Fame. Although, many who weren't enshrined failed to do so because of injury.
Derrick Rose and Penny Hardaway stand out as players with impressive early resumes who have not made the HOF or will likely fail to do so.
During Rose's first four seasons, he notched 30.0 Win Shares, making three All-Star teams and one All-NBA team (his MVP season). Hardaway totaled 40.2 Win Shares during his first four years in the league, which included three All-Star and three All-NBA team appearances.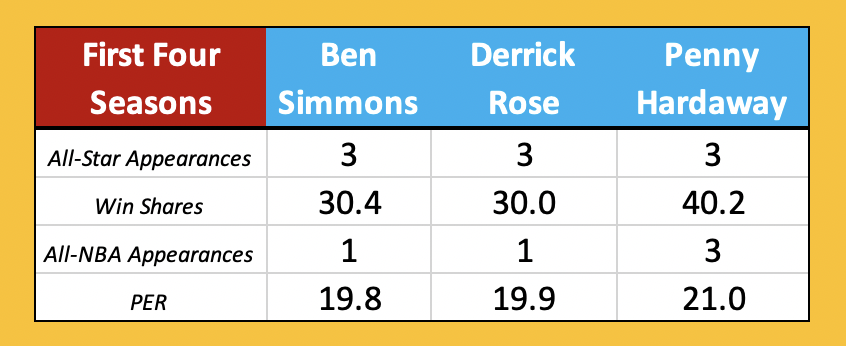 Basketball Reference pegs Hardaway's probability of making the Hall of Fame at 28.7% (his run as the coach of the University of Memphis could aid his future prospects, though his NBA playing career alone doesn't appear likely to get him there).
Rose has a 10.5% probability

and how voters factor his Final Four run as a player at Memphis will be a fascinating subplot to his Hall of Fame candidacy.
As for Simmons, it's clear that his collegiate career won't do him any favors if he's in a serious Hall of Fame conversation at some point in the future.
Simmons doesn't own a single NBA season that reached the heights of Rose's MVP campaign nor does his first four years of play come out on top if you directly compare it to Hardaway's first four years. However, the 26-year-old point guard/forward/positionless player isn't far off from either player's start and he has one thing that neither Rose nor Hardaway currently has: time remaining at his peak.
Both Hardaway (14 seasons) and Rose (13 seasons and counting) enjoyed lengthy, yet less glamorous-than-expected NBA careers after explosive starts; history suggests if Simmons can continue to play basketball in any capacity, at worst, his trajectory will put him in the same category as Rose and Hardaway.
If Simmons can overcome his own injury hurdles, he can still position himself for a much higher career trajectory.
---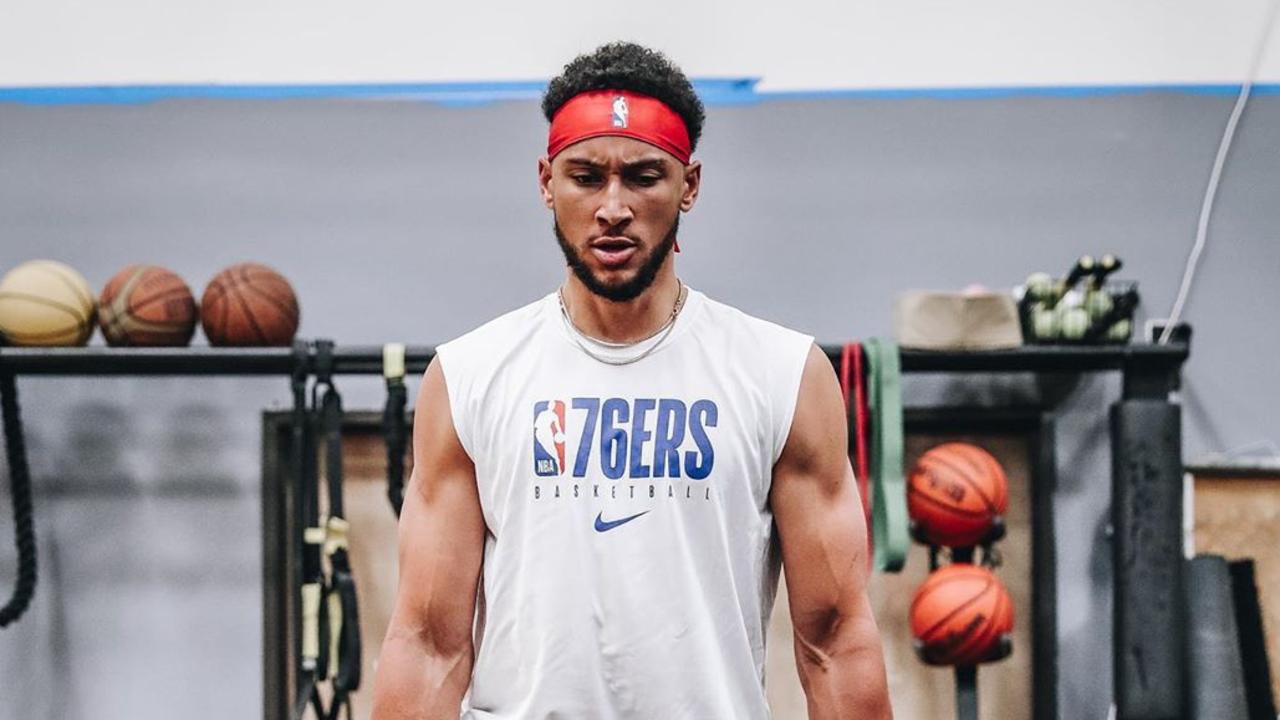 Understanding Simmons' Road Back
Simmons had back surgery last May to repair a herniated disk and while the news of nerve issues in the aftermath is troubling, it might not be as daunting as it sounds for his future.
As someone who had a similar surgery to Simmons' most recent procedure and has spent time discussing back injuries with various NBA training staff, I understand the road that Simmons is traveling to get back up to his peak.
From a patient standpoint, Matt Ellentuck's 2018 piece interviewing NYU spine surgeon Dr. Charla Fischer about microdiscectomies and the future prospects of Michael Porter Jr. does a nice job of capturing what the surgery is like and what different setbacks can mean.
"This is an outpatient surgery," Fischer says, "like if someone had a knee scope. So you're only in the hospital for the day of the surgery and then you go home."
Fischer also explained that some nerve issues post-surgery are "normal" when asked about Porter's reported post-surgery leg muscle issues. Leg muscle weakness and other related issues (such as Sciatica) can be caused by nerve impingements, which is the ailment that Simmons is reportedly dealing with.
The 2018 piece also cited a Sports Health study by Shobhit V. Minhas, MD, Benjamin S. Kester, MD, and Wellington K. Hsu, MD that evaluated 61 NBA players with similar herniated disc injuries and found that many didn't bounce back immediately.
Using PER as a baseline, the study found that a patient won't return to his typical level of play until his second season following surgery.
In the study, the trio of doctors cautions that to make more "definitive" recommendations, a larger sample size than the 61 NBA players included would be needed. The research was also published in 2016 and there have been NBA players since who would have qualified for the study. Still, it's logical to assume that Simmons not returning to his previous level of play in his first season following the surgery isn't a clear indication that he won't get there.
The risk of re-herniation affects 10-12 percent of players and as of this writing, there haven't been any reports to suggest Simmons has suffered that setback. If that were to occur, another surgery would be on the table for Simmons, which could increase his recovery timeline and likely push his healthy return another year into the future—And every year that goes by, it becomes less likely that he finds the success he had in his early career.
---
Disclaimer: Now is a good time to make it clear that I have the same amount of medical degrees as Doc Rivers. None of this should be considered medical advice.
Doc Rivers says he's not sure when Ben Simmons (illness) will return to the lineup.

"I am not a real doctor." 😂#HereTheyCome | @FortyEightMins pic.twitter.com/sEHOcITOyV

— Chris W. Crouse (@ChrisWCrouse) April 20, 2021
My back injury and subsequential surgery kept me from continuing any sort of serious basketball career, though that was also a decision based on probabilities and risk management: there was essentially no chance that continuing to play would yield any sort of NBA career.
Yet, for those who have NBA height and skillsets, there's reason to take more risk and intensely continue the path back to a basketball, including a second surgery if it comes to that.
---
Making It Back: Current & Former NBA Player Examples
Porter is a recent example of a player who has made it back from surgery; Dwight Howard, Brook Lopez, and Reggie Bullock are others. Scottie Pippen may be the most famous example of a former player further elevating a career after undergoing similar surgery.
Pippen's back woes were well documented during his rookie season and in the summer of 1988, the future Hall-of-Famer underwent back surgery. Pippen had a solid sophomore campaign but wouldn't make his first All-Star appearance until his third season in the league when he was 24-year-olds.
Pippen would make a total of six All-Star appearances and win six championship rings alongside Michael Jordan before undergoing another back surgery in 1998. After the second procedure, Pippen would play six more years, including being part of five seasons that resulted in playoff appearances.
While back injuries can be similar, everyone is different in how they respond on their road to recovery and maintaining good health. Over the last 10-plus years, I've absorbed every piece of research on back injuries, and through intense trial, error, and maintenance, I found what works for me (to the point where I have no real issues). No doubt, Simmons has a team that's helping him do the same thing—albeit with higher, more public stakes.
---
Buying Into Simmons' Future
Whether it's his back injuries, the mental woes, or simply the possibility that he wants to play on the West Coast, we've seen NBA players make it back from lower depths—especially those who have reached the heights that Simmons had.
With the two-year anniversary of the infamous Sixers-Hawks Game 7 around the corner, there's no certainty that Simmons reaches the heights that he had before that playoff run. It's not popular to suggest that the possibility exists, yet it remains in play.
Based on NBA history, it's likely that a comeback of some level will occur for Simmons whether it's for the Nets or a new team.