---
If this were a normal year, the Cavaliers and NBA would be early in the 2020-21 season.
But this is hardly a normal year.
So it's understandable if you're jonesing for some basketball, and if that is indeed the case, I have just the ticket. Or the book.
That would be none other than "Vintage Cavs: A Warm Look Back at the Cavaliers of the Cleveland Arena and Richfield Coliseum Years."
It was written by noted Cleveland.com sports columnist Terry Pluto, who has penned what feels like 117 books. (I think it's actually somewhere in the mid-to-high 30s, but I am fairly certain even Pluto himself has lost count.)
Anyway, the book was actually released last season, which feels like 117 years ago. (But really is only just one.) I've read the book — twice.
Everything you want to know about the Cavs' history is in there. I'm from Akron, have covered the Cavs for 13 years and have followed them for considerably more than that. Yet there a lot of anecdotes in "Vintage Cavs" that I didn't know.
It's thorough. It's entertaining. And if you love pro basketball in Cleveland (and Richfield), once you start reading, it's hard to put down.
Everything is covered — from the miserable expansion season to how first coach Bill Fitch got the job to the move to Richfield and the Miracle that followed.
Pluto spent eight years covering the Cavs as a beat writer for the Akron Beacon Journal during the cherished era of Mark Price, Brad Daugherty, Larry Nance, John "Hot Rod" Williams and coach Lenny Wilkens. There is tons of inside stuff and plenty of interviews reliving those seasons in the late 1980s and early '90s. Before LeBron James, the Price-Daugherty years were the ones held closest to the hearts of most Cavs fans.
You'll recognize other names and tales. Bingo Smith. Austin Carr. Campy Russell. George Karl. Ron Harper-for-Danny Ferry. Wayne Embry. The forever underappreciated World B. Free.
But my favorite chapter is the one on Joe Tait. You know Tait as the Hall-of-Fame former Cavs radio voice. But I know him as someone who helped kick-start my career. (The same goes for Pluto, who also wrote an entire book on Tait.)
VOICE OF SUPPORT
My first real job was working as a one-man sports staff at a tiny newspaper in a tiny Wyoming town. I wrote all the stories and headlines, took all the photos, ran my own film in the dark room and even sometimes helped deliver the paper.
The days could be long, thankless.
But for whatever reason, Tait took a real interest. He was the Voice of the Cavs. I was just some doofus barely making ends meet in the Rockies, covering high school swimming and six-man football, all while navigating my way through an endless stream of blizzards.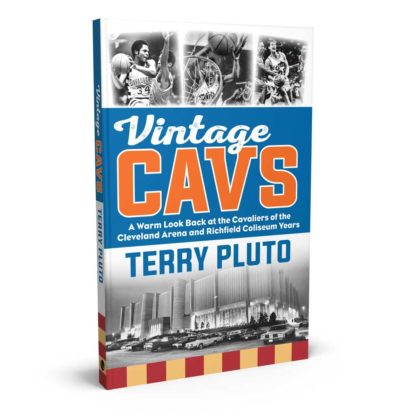 Tait sent me letters of encouragement. He called on one occasion. That time wasn't to offer support. Instead, Tait wanted me to start mailing newspapers to him in Ohio. He wanted to read about Wyoming sports. Not University of Wyoming, mind you. He wanted to check out the high school sports scene where I worked.
It later dawned on me that if I had gotten a job in say, New Orleans, Tait may not have kept up with my career. He loved small-town, remote America and that is where I got my start.
He also loves trains, and made a point to mention that one of his favorite train stations was located nearby my Wyoming home. He suggested I go there and take pictures, then send the pictures with a batch of papers. I don't think I ever got around to the first part. But Tait kept requesting the papers anyway.
His career started much like my own. He worked for a lot of radio stations in a lot of forgettable cities before coming to the Cavs. He landed the play-by-play job almost by mistake.
My career as an NBA writer followed a very similar path.
Later, I would cross paths with Tait at Cavs games. We barely spoke beyond a simple "Hello." I was working, he was getting ready to call another game, and our jobs interfered with our real lives. I wish now I had stopped just once and thanked him.
"Vintage Cavs" brings back a lot of those memories for me — and I bet will rekindle a lot special moments for you too. So I highly recommend reading it, maybe twice or even 117 times.