The Russell Westbrook experiment in Los Angeles appears to have reached a point where it's simply not going to work. While the Lakers continue to talk with teams about a trade, let's examine three realistic trade destinations for the former MVP.
---
Charlotte Hornets
The Lakers had interest in Terry Rozier during the offseason and nothing has changed on that front. According to Shams Charania of The Athletic, Los Angeles has a "high" level of interest in the point guard at this time. Of course, the most realistic path to a Rozier trade would be a deal that moves Westbrook away from Los Angeles.
With trade rumors in the NBA, there is always much more smoke than fire. And many times, smokescreens dominate what is presented. But if the Lakers truly value Rozier, perhaps there's a path that lands Westbrook in Charlotte.
Trading Gordon Hayward and Rozier for Westbrook and Kendrick Nunn would work salary-wise. What kind of draft compensation would the Hornets require in such a deal? Perhaps not as much as you may think. Hayward (two years left on his deal) and Rozier (four years) both have contracts that extend beyond this season while Westbrook is on an expiring. That could actually be advantageous for a Hornets team that could look to retool around LaMelo Ball next offseason. Still, Charlotte would want some compensation for the pair of veterans and a top-3 protected 2027 first-rounder might be enough to swing a deal.

Charania also notes that the Hornets and Lakers explored the possible framework of three and four-team trade scenarios over the summer, including deals that included Westbrook heading to a third destination.
---
San Antonio Spurs
The Lakers and Spurs have had talks about Josh Richardson in recent weeks, Charania notes. San Antonio has significant cap space available, though they would need to send out more than just Richardson in a deal. Richardson plus Romeo Langford would work salary wise and perhaps one first and a pair of second-rounders would make San Antonio consider the proposal.

Another alternative is a three-way deal that sends Westbrook to the Spurs but also sends Rozier to the Lakers.
Los Angeles adding Rozier and Richardson may require the team to give up multiple first-round picks, though it's debatable whether they could acquire Rozier by offering Kendrick Nunn, Romeo Langford (or another Spurs prospect), and a bundle of second-round picks. That would obviously be the preferable route for the Lakers, though if they had to surrender both first-rounders (2027 and 2029), then having the Hornets send over a pair of second-rounders to San Antonio (as well as protecting both picks) could be the proper avenue.

---
Philadelphia 76ers
Now before we dismiss the idea, let's examine the situation. The Sixers are struggling to begin the season and the threat of Mike D'Antoni taking over the head coaching position looms if Doc Rivers can not turn the situation around. D'Antoni, of course, coached James Harden during his tenure with the Rockets and he also found success with the Harden-Westbrook tandem during the duo's lone (pandemic-shortened) season together.
Tobias Harris has been in a tough spot since he was acquired by the Sixers, having to shift roles immediately upon coming to Philadelphia followed by an increase in usage following the Jimmy Butler departure. Harris wasn't terrible alongside Horford and Embiid, though it was still an awkward fit. He played notable better following Horford's departure, shifting to the four in an almost full-time capacity next to the defensively-great Embiid as the Sixers rode to a one seed during the 2020-21 campaign (he even had some All-Star buzz). That sort of success continued last season, though with Harden arriving in South Philly and PJ Tucker taking more of the power forward minutes this season, Harris again looks out of place.
Harris has two years left on his deal and moving him is easier now than it was a year ago. With the Lakers, he would have a similar setup in the frontcourt, playing the four alongside a defensively great big in Anthony Davis. In this proposed three-team trade, the Lakers would acquire Harris and Rozier while surrendering their 2027 pick (unprotected) and three second-round picks.
It may seem like an awkward fit for Philly, but again, the Westbrook-Harden backcourt did work as recently as the 19-2020 season when the Rockets showcased the second-best offense in the league and ranked fifth in net rating. Westbrook would likely play fewer minutes in Philadelphia and he wouldn't need to close out games. The backcourt rotation of Harden, Maxey, and Westbrook means that one of the three is on the court at all times, something that provides trouble for opposing defenses and can further take pressure off of Joel Embiid during the regular season. It's worth noting that if the Sixers make this trade soon, it will allow the franchise to test out the Westbrook fit while still providing the chance to re-trade him before the February deadline.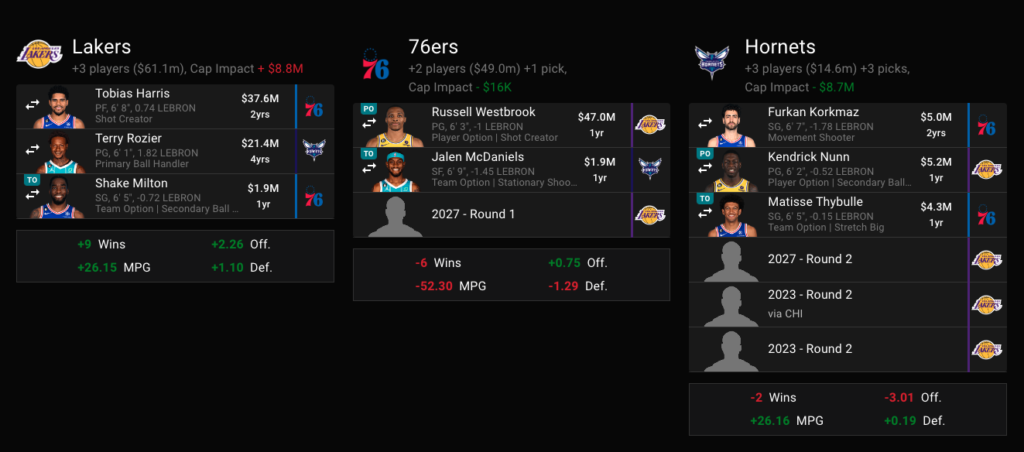 Acquiring Jalen McDaniels is something that should not be overlooked from a Sixers' perspective here. As McDaniels enters his fourth season in the league, the 6-foot-9 forward boosts a career 37.0 percent mark from behind the arc. The 24-year-old Hornet could fit nicely into the Sixers' rotation as someone who could play both forward positions.
For Charlotte, it's an opportunity to bring in a prime defender in Matisse Thybulle, who should fit nicely in a lineup alongside their superstar guard. Kendrick Nunn and Furkan Korkmaz shouldn't be considered throw-ins, as each could become rotational pieces in Charlotte. The trio of second-rounders adds future assets and gives the team some flexibility as they ponder other trades.
The Lakers sending Westbrook to the Sixers is not a likely scenario but we've seen stranger things happen in the NBA. If the deal were to come to fruition, this is a scenario that would make sense for all parties.