Attending a D.C. Defenders game at Audi Field is about more than just the game. It's an event that allows fans to be part of a community of supporters and presents unique experiences along the way.
The truest of sports fans in the DMV know about the Defenders' "Beer Snake" tradition, which started back in the 2020 version of the XFL. During games, fans stacked cups that spanned several rows with the largest reported "Beer Snake" coming in at 1240 cups.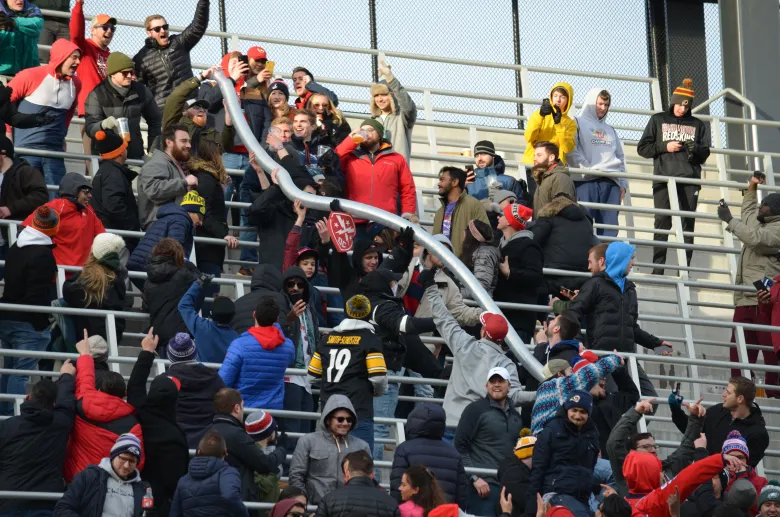 The franchise is now offering fans a chance to secure themselves as part of the experience via a season ticket package for their supporter section. Fans can ensure that they'll be part of the community when tickets go on sale on Tuesday morning, though there is a limit of four tickets per person in the supporter section, according to a team press release.
The team also announced that being a Defenders season ticket-holder comes with some unique benefits, including "exclusive season ticket member events" with coaches and players as well as "exclusive game-day opportunities, such as post-game meet and greets, pre-game sidelines access and more."
---
Defenders Create College-Like Atmosphere
The XFL provided fans in the district with an electric atmosphere in 2020 before the pandemic forced the league to shut down. The 2023 season brought revamped enthusiasm at Audi Field with the league under a new ownership group led by Dwayne "The Rock" Johnson.
Last month, the league announced that it would merge with the USFL. While the XFL has undergone change in recent years, much like college football, the atmosphere at games is one thing that will always remain.
Best atmosphere in @XFL2023! The @XFLDefenders fans are crazy and I love it! #DCDefenders #XFL2023 @TheRock pic.twitter.com/BcdxcrqAue

— Tom Hunsicker (@TomSportsWUSA9) February 20, 2023