---
The Trail Blazers had a pretty bad season to their standards. However, Damian Lillard doesn't expect that to continue next season.
"A tough season, a lot of adversity this year," Lillard said (h/t Sean Highkin of Bleacher Report). "A lot of things came up that we didn't expect. But I want you to know one thing: this will not continue. Next year, we're going to be back better than before."
It would be hard to blame Lillard for wanting a new situation for himself so he can compete for a championship, but Blazers should feel encouraged nonetheless to hear their franchise player being so invested in the team.
More From Around The NBA
Restricted free agent to be Anfernee Simons is feeling optimistic about returning to Portland, Highkin relays. "We both have a mutual interest in coming back," Simons said. "I'm pretty sure it will get done."

---

Russell Westbrook could be headed to the Pacers for Malcolm Brogdon and Buddy Hield in the offseason, according to Shams Charania of The Athletic. This move would be great for the Lakers, but it may take draft capital or other enticing assets to get Indiana to move the needle.

---

LeBron James was asked if he wants to be teammates with Westbrook next season, which is something he said he'll leave to the front office. "I'm not here to make decisions for the front office and that nature," James said. "But I loved being teammates with Russ."

---

The Lakers have officially fired Frank Vogel as their head coach, they confirmed earlier on Twitter. Quin Snyder and Doc Rivers are potential candidates to replace Vogel, according to Jake Fischer of Bleacher Report.

---

Kendrick Nunn will exercise his player option for next season, calling it a "no-brainer," Bill Oram of The Athletic tweets. Nunn missed the entire season with a knee injury.

---

Chris Finch has agreed to a multi-year extension to remain the Timberwolves head coach, the team announced in a press release. He helped Minnesota earn a 46-36 record a season after finishing with the sixth-worst record in the league.

---

Jarrett Allen has shed his splint on his broken finger and has it wrapped with black tape, Chris Fedor of Cleveland.com writes. However, he's not going to be available for the play-in game against the Nets on Tuesday evening.
Special Betting Offer From PointsBet
Offer: Two risk-free bets up to $2,000
States: New York, New Jersey, Illinois, Iowa
Promo code: MVPBET (T&C Apply)
Special Betting Offer From Fubo Sportsbook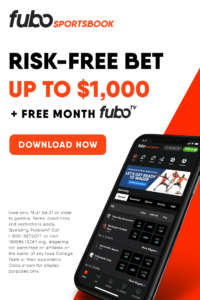 Offer: One risk-free bet up to $1,000 + one month of free FuboTV.
States: Arizona, Iowa
Promo code: MVPBET (T&C Apply).